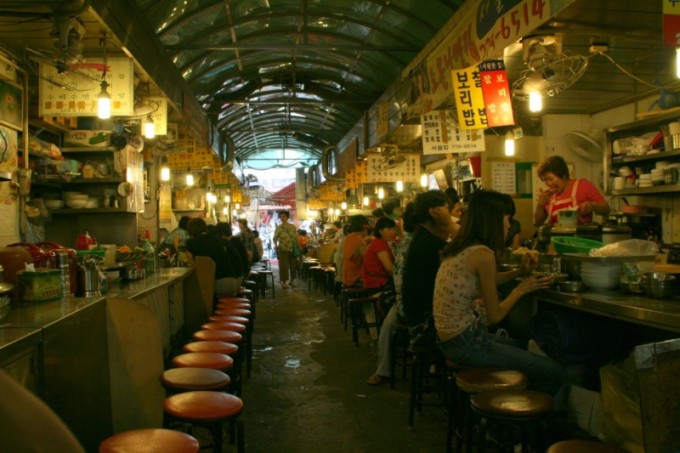 The only way to truly get to the heart of South Korean traditional cuisine in Seoul is to take to the streets. The best and real traditional food are always the ones frequented by the local themselves, far beyond the tourist places.
Below are a handful of hideouts that really get beneath Seoul's globalized exterior and are what South Korean cuisine is really all about. These food alleys are called "Meokjagolmok", the sprawling market eatery.
Kalguksu Street
Getting there: Subway Line 4 to Hoehyeon Station. The alley is directly in front of exit 5.
Kalguksu is a traditional South Korean noodle dish, kalguksu consists of handmade, knife-cut wheat flour noodles served in a variety of broths with seasonal ingredients.
Pajeon, traditional South Korean pancake, kimchi and a smaller bowl of noodles -- all soon washed down with a bottle of makgeolli.
Gwangjang Market
Getting there: Take subway Line 1 to Jogno 5-ga Station and get out at exit 8.
Gwangjang Market is a favorite for many locals, remains the largest of its kind in Seoul and is the place to be for traditional seasonal grub.
The savory nokdu bindaetteok (Korean Bean Pancake) and/or tteokbokki are worth ordering. For the more adventurous, Soondae (Korean blood sausage) is also an option.
Soondae is from a boiling pig intestines and then stuffing them with an assortment of ingredients and vermicelli noodles. Everybody loves vermicelli.
It is better than it sounds.
Jokbal town aka 'boiled pig's feet alley'
Getting there: Take subway Line 5 to Gondeok Station and get out at exit 4.
Jokbal is a Korean pork dish made from boiling pig's leg in water. The dish is best served with soju, South Korea's very own potato-distilled vodka.
Preparing pig's feet is no easy feat. Parts are boiled and strained to ensure tenderness and taste.
According to Jokbal makers, the glutinous, fatty bits are supposed to be great for the skin.
Meat alley
Getting there: Subway Line 5 to Majang Station. From exit 2 walk straight to the bridge (10 minutes) and turn left. The alley is around 500 meters down from there.
Beef at the Meat Alley is cheaper and usually of better quality than that found in the more commercial restaurants.
What more could one ask for to while away the hours after work than some South Korean Barbecue?
(아주경제 이수지 기자)