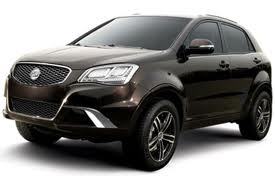 Ssangyong Motor Co. released on Tuesday the latest version of Korando, its typical sport utility vehicle, in South Korea.
The new-introduced Korando C model is the fourth generation of the model which was first released 1974, the longest surviving SUV model in South Korea.
This vehicle is equipped with 2.0 liter diesel engine with maximum horsepower of 181 and fuel economy of 17.6 kilometers per liter when driving on two-wheel drive with manual transmission, and 16.4 kilometers on all-wheel drive.
Korando C model is relatively small vehicle by size, but it will create a new luxury segment of small sport utility vehicles, the company was qouted by Yonhap news.
(아주경제 송지영 기자)