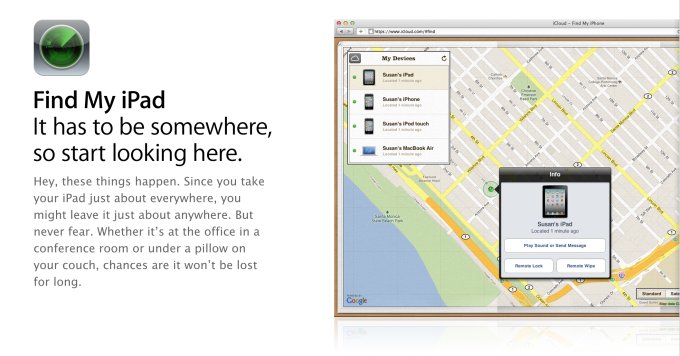 'Find my iPad' app (Photo source/credit: Apple.com)
The technology has flourished tremendously in recent years especially in electronics field; Thanks to Apple. There have been a lot of thieves lurking in hopes to steal Apple electronics and sell them. But Apple took the problem in its own hands and solved it with their new app, 'Find My iPad'.
A Nevada resident made the use of the app when he lost his iPad during his flight with Horizon Air. The app located the iPad in a flight attendants house in Oregon City. The police officers could arrest the flight attendant, Wendy Ronelle Dye (43), last Friday.
Dye denied the fact that she stole it and claimed that she did not used the iPad; she also asserted that she was going to return the iPad to Horizon Air to find the owner. However, authorities found Dye's personal information registered in the iPad, along with her husband's birthday.
Dye is now suspended from her job.
아주경제 이수지 기자