(This article was contributed by Rhyu Sang-young, a professor at Yonsei University's Graduate School of International Studies, to the East Asia Foundation on November 22 and allowed to be published by Aju Business Daily.)
​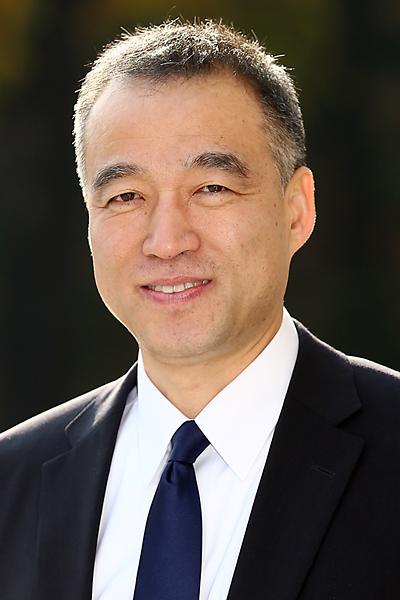 South Korea is on the edge of chaos. How should we make sense of the catastrophe brought about by the administration of President Park Geun-hye? Can this, in any way, contribute to the recovery of democracy in South Korea? Perhaps ironically, a breakthrough may be ushered in via catastrophic change on the edge of chaos.
The so-called "Park Geun-hye/Choi Soon-sil Gate" is the recently erupted political scandal involving Choi Soon-sil as the éminence grise (the power behind the throne) whose relationship with Park was said to be "shamanistic." Other accusations involve her having access to and meddling with confidential government documents such as Presidential Records before they were publicized, intervening in the appointment of core governmental posts, influencing policy decisions, and pursuing private interests including the establishment of two foundations with about 80 billion won ($68 million) extorted from chaebol, large domestic conglomerates. Circumstances point to Park herself being responsible for the scandalous incidents and Choi reigning as a shadow president. The personalization of state affairs by an individual without any official credentials incited the wrath of South Koreans, who took to the streets to protest en masse, demanding that Park resign. People raged over the humiliation and betrayal they have suffered in addition to the economic downturn and social inequality they have endured. Park's approval rating has dropped to 5 percent, the lowest ever in South Korean presidential history. The New York Times, in an editorial, depicts Park as having relied heavily on a shamanistic fortune-teller; the Washington Post reports this scandal as the unearthing of a "Korean Rasputin," while the Financial Times writes of a "Seoul Svengali."
This is a disgrace to the South Korean people. It is a crude situation, one that should not occur in a modern democratic state. This blatant existence of barbarism has brought catastrophe in an age of civilization. The National Assembly is discussing an investigation and has agreed on a special prosecutor's investigation. The legal questions can be summed up as follows: 1) how involved was Park in the alleged actions; and 2) does the establishment of Choi's two foundations and her solicitations for contributions from South Korean conglomerates amount to an effort to solicit bribes? The social and political issues are summed up as follows:1) is the relationship between Park and Choi really shamanistic;2) why and how did the South Korean legal and political system not stop the illegal actions plotted by the president, the ruling party, core bureaucrats and large conglomerates; and 3) how will South Korea hold Park politically and legally responsible and resolve this catastrophe?
Religion and Politics: Historical Context of the Dark Shadow
Political power has always tried either to win religion over or hold it in check. Any given country has its share of political scandals under the name of something holy. The current scandal, of course, is not such a situation, but it contains religious undertones with historical origins in the era of Japanese colonialism and the subsequent government of Park Chung Hee that would be unwise to ignore. The Japanese colonial authority in Korea had meticulous policies directed at religious groups, including Protestants, Catholics, and Buddhists, in an attempt to incapacitate anti-Japanese movements, win them over and assimilate them. Their policies varied if they were able to co-opt religious leaders, many of whom deferred and were then marked for having an embarrassing history of collaboration with colonial rule. Shamanism was, on the other hand, subject to control by the colonial authority because it was inherently nationalistic. This strategy towards religion was perpetuated by the Park Chung Hee administration. The religious community's contribution to South Korean democratization was massive. That said, many religious leaders did indeed serve the dictatorship too. Pastor Choi Tae-min, a police officer during the Japanese colonial years, is known to have been a political conman disguised in the cloak of religion. Choi's bizarre relationship with Park began four decades ago and is very much ongoing, though now through Choi Soon-sil, Choi's daughter. The Korea Salvation Mission and the Korean Salvation Crusaders, established by Park Geun-hye and Choi Tae-min on April 29, 1975, can be considered as part of a strategy to divide and rule anti-Park groups within the Protestant community or to mobilize social forces that Park Chung Hee used to maintain and strengthen his regime. Park Geun-hye and Choi Tae-min integrated these two groups into the New Mind Volunteer Group in April 1976 to attempt people's spiritual regeneration. Though the current Park/Choi liaison is not a part of a ruling strategy but rather private connections that evolved into a personal interest-seeking tool, we cannot deny that its roots clearly lie in the Park Chung Hee and Japanese colonial eras.
Does This Reflect the Current Status of South Korean Democracy?
South Korea's democratization in 1987 was a best practice for future reference. It was a model case of the third wave of democratization; it was gradual, peaceful and irreversible. South Korea is in the process of consolidating its democracy. It is also an exemplary case that shows that the road to democratic consolidation is both rocky and lengthy.
Does the catastrophe of "Park Geun-hye/Choi Soon-sil Gate" reflect the current status of South Korean democracy? Is South Korean democracy that weak? In fact, many concerned citizens have pointed to the degeneration of South Korean democracy under the Lee Myung-bak administration. This voice of disquiet, however, grew increasingly louder during the current Park administration. The 2012 presidential election was tainted with questions about legitimacy because the Korean Central Intelligence Agency (KCIA) and Military Cyber Command obstructed the democratic process by manipulating public opinion on social media. The Park administration abandoned the most basic democratic principles in its reactions and responses to the Sewol Ferry disaster and the mistreatment of the activist farmer, Baek Nam-gi, who was struck by a police water canon during a protest and subsequently died. Recurrent accusations against individuals for espionage for North Korea, which were later judged to be unfounded, as diversionary tactics of the KCIA and the state prosecutor's office, were typical cases of South Korea's own version of McCarthyism. The funding of abnormal, far-right organizations through the Federation of Korean Industries and their mobilization to participate in government-inspired demonstrations reminded people of the nightmares of the Rhee Syngman dictatorship in the 1950s. This anachronism culminated in the decision of the government to compile middle and high school history textbooks, resulting in the obliteration of democratic diversity and creativity. Recently, a blacklist has been revealed with the names of those who were not cordial to the administration within cultural industries. These incidents clearly show that the concerns about the failure of South Korean democracy are not without merit or evidence.
However, the current catastrophe is too irrational and personal to be considered representative of the current state of democracy in South Korea. This is not a catastrophe of South Korean democracy, but of Park's personal aberrations. While it shows that culture and a leader's personal traits are important for a democracy, as are institutions, it does not spell the death of South Korean democracy. It has been harassed by "the strongman's daughter," who is not yet equipped with democratic values and historical awareness and whose thoughts and actions are still locked in the 1970s. South Korean people, on the other hand, have respected Park's legal authority bestowed upon her by democratic election and have born with her until the very end. A million people hitting the streets on November 12, not in violence but in peace, shows that South Koreans can no longer tolerate Park's ignorance, incompetence and undemocratic abuse and misuse of power. The recent protest was not a social anomaly, but a highly rational movement, in which enlightened democratic citizens stood up to Park to salvage their country and democracy from the brink of chaos. It stands alongside the 1987 democratization movement and the 1997 gold-collecting movement in which citizens voluntarily donated gold in order to save their country from national bankruptcy. If the 1987 democratization movement was a struggle to gain democracy, the protest of 2016 is one of sharing and healing, full of fun, humor and mature citizenship. This catastrophe paradoxically shows how resilient South Korea's democracy is. It is a profoundly sanguine intimation of democracy's positive future.
Putting the Choi Soon-sil Puzzle Together: A Superficial Complex System
The term 'black box' is often used as an analogy for democracy's complex policy decision-making process. Various stakeholders strive for their best, using rational logic and sophisticated strategies in order to produce socially optimal results. This is where complex systems theory, spawned from the natural sciences, becomes useful in social science. It was natural to analyze the Park administration's black box through the lens of rationality. But many reported that the puzzle of the Park administration's policymaking process seemed impossible to unravel and make sense of.
The Park administration has on occasion announced vital policy decisions too suddenly and abruptly. News media report allegations of Choi Soon-sil's influence at play on South Korea and Japan's agreement on the comfort women issue and on South Korea's decision to deploy the Terminal High-Altitude Area Defense (THAAD). On December 28, 2015, South Korea and Japan agreed to resolve the comfort women issue. This was quite unexpected, considering that Park had refused even to meet with Japanese Prime Minister Shinzo Abe for 31 months after her inauguration. It is rumored, and is quite widely accepted as true, that the South Korean foreign minister himself did not fully know the details of the agreement and was pushed to announce the deal on the morning of December 28. Kyu-hyun Kim, Park's aide on foreign affairs and security, said in the National Assembly's inspection of the administration that he did not have a chance to consult with Park in private regarding this matter. On July 8, 2016, the deployment of THAAD in South Korea was announced. It was, again, an unexpected announcement considering that the administration had noted on numerous occasions that there was "no request, no discussion, and no decision" on this matter. Lawmaker Jong-dae Kim of Justice Party, an expert on this issue, argued in an interview that "the Blue House made a direct deal with US Forces in Korea" and that the Ministry of Defense was marginalized in the final decision-making process. Kim also raised allegations on October 28, 2016, that Choi had contacted the manufacturers of THAAD. Park's use of irrational and irregular terms in her speech has also amplified allegations that Park has been highly dependent on Choi. Park, for example, said to children who were visiting the Blue House on May 5, 2015 to celebrate Children's Day that "if you want it direly enough, the universe will come to help you," and on November 10, 2015, during a cabinet meeting, she said that "your spirit becomes abnormal if you do not learn the right history," while she was emphasizing the necessity of a government-written history textbook. South Koreans, at that time, were befuddled and puzzled as to how these strange phrases came to be part of the president's official remarks.
According to the prosecutor's investigations and media coverage up to now, Choi Soon-sil is analogous to Lord Voldemort in Harry Potter. People cannot speak her name for fear that you-know-who will strike back. Actually, several attempts to unveil the truth foundered, and whistleblowers were sent to prison, one of whom even committed suicide. It is simultaneously bewildering and troubling to accept such an irrational reality where events that were once confounding are miraculously solved once we put the newly discovered puzzle-piece of Choi Soon-sil into place. The recently exposed complex system of the Park administration was neither rational nor complex. As such, any rational approach to understanding Park and her administration could have only been frustrated, naturally dispiriting citizens and experts in their attempts to understand the Park administration's major policy decisions.
Butterfly Effect in International Politics and Inter-Korean Relations
International politics is a competition of rational strategy among countries. However, overly irrational decisions frequently occur. The contention of historians that soldiers and generals who were foes did not know why they were fighting following the outbreak of the First World War can teach us a significant lesson. Maybe the hypothesis that international politics and inter-Korean relations are rational can instead produce even more tension. And one irrational protruding variable may bring on a catastrophic butterfly effect. And we can witness a few failed cases of war with "lions led by donkeys."
On February 10, 2016, the Park administration decided to close down the Kaesong industrial complex. Even with prevailing provocation from North Korea and strengthened sanctions from international society, such a decision was considered greatly irrational. There was no discussion of it in the National Security Council meeting presided over by Park on February 7. However, the decision to close the complex was suddenly made three days later at the February 10th meeting, presided over by the head of the National Security Office. During this meeting, the Ministry of Unification suggested a tentative suspension of access, but this proposal was disregarded. Based on this, Dong-young Chung, the former Minister of Unification, raised suspicion that "between the 8th and 9th [of February], an éminence grise could have influenced this decision." At the time, there was much speculation about who made such a sudden decision and why it was made, despite being able to anticipate opposition from many experts and many stakeholders including businessmen. Lawmaker Sang-ho Woo, the floor leader of the main opposition party – the Minjoo Party of Korea – revealed suspicion that Choi Soon-sil's shamanistic prophecy of "North Korea collapsing within 2 years" influenced Park's hardline position against North Korea. If the suspicion that irrational factors are operating in the background of the Park administration's hawkish policy toward North Korea is true (although difficult to prove and only known to Park herself), rapidly exacerbated tension in inter-Korean relations would be an outrageous international political paradox brought about by an irrational spasmodic factor.
On September 9, 2015, after North Korea's fifth nuclear test, Park reproached Kim Jung-un, saying that "[his] mental condition is uncontrollable." However, The New York Times reported on September 10, 2016 that "North Korea's behavior, far from crazy, is all too rational." Actually, North Korea's leader may have been rationally coping with the situation in response to the Park administration's hardline policy, which he viewed as the maximum threat against his regime. North Korea might have hastily accelerated its nuclear development program and missile provocation under the rational perception that South Korea's experts and related military institutions would mobilize accurate information and rational strategies to pressure him. If the aforementioned allegations are true, and Kim Jung-un realized this irrational situation, how might he feel about it? US President Barack Obama and Chinese President Xi Jinping's confrontation regarding the Korean Peninsula policy – including the deployment of THAAD – may have also been a butterfly effect of such irrational factors. The recent phenomenon seems to warn that international relations surrounding the Korean Peninsula that may appear rational and delicate can unexpectedly and easily become vulnerable and impair our peace and prosperity. It is a moment reminding us again of the basic principle of international politics, in which transparent and democratic decisions and competition based on rational strategy are the more predictable and safe methods to manage the crisis surrounding the Korean Peninsula.
Park Chung Hee's Three Testaments Misread by Park Geun-hye
No incident is without historical context, and there is no completely rational political phenomenon. All strategies and systems can produce unintended consequences. In this sense, there is a need to examine the historical context of President Park and the current situation. Unfortunately, Park seems to have misinterpreted her father Park Chung Hee's testament. Studying Park Chung Hee, I can find his historical testament in three analects he left behind:1) on August 30, 1963, at a military service discharge ceremony held at the fifth corps airfield in Chulwon, Park Chung Hee wiped his tears, saying "no soldier as unfortunate as I should be born in this country again;" 2) while drinking with Blue House accredited reporters, as if he sensed critical public sentiment, Park Chung Hee declared "spit on my grave;" 3) as he fell after being shot at a safe house in Gungjeong-dong on October 26, 1979, Park Chung Hee's last words were, "I am all right." How should these three analects be interpreted? Considering the acute political confrontation surrounding the evaluation of Park Chung Hee, extreme interpretations come hand in hand. However, regardless of the yeas and nays, Park Chung Hee is a historical figure who authored a page in the modern history of South Korea. Simultaneously, from a historical perspective, he is also a product of history, having fulfilled his assigned role. He had his own philosophy of history and of the country, and was a figure who knew his fate and embraced it. At the very least, he would not have clung to glamorized political evaluations of himself, such as those that the current President Park and some irrational supporters obsess over. I wonder what Park Chung Hee would have thought about President Park's failure to overcome the negative legacy of Park Chung Hee and her own perception of history in which she clings to government-written history textbooks. President Park failed to look at Park Chung Hee as a historical figure objectively. She tried to be a good daughter, but her attempts might have made her into a bad one. President Park should have promoted Park Chung Hee's historical assets and reduced his liabilities, but, instead, she undermined the assets and aggravated his liabilities. In an interview with Sisa Press on November 14, 2016, Jong-pil Kim, the second-in-command during the Park Chung Hee period and husband to President Park's cousin, characterized President Park as being stubborn and as someone who has "only inherited [the] demerits" of her parents. However, history will not limit this assessment only to interpreting President Park's personal characteristics.
On October 26, 2016, the 37th anniversary of Park Chung Hee's death, the prosecutor's office conducted a large-scale search of Choi Soon-sil's house and the two foundations at the center of the current scandal. Park is set to become the first incumbent president in South Korea's constitutional history to be investigated by the prosecutor's office during her term in office. President Park Geun-hye is now charged as a 'co-conspirator' in the massive corruption scandal by the Public Prosecutors' Office on November 20, 2016. In this case, Park has played the unintended historical role of relieving the obsessive myth of Park Chung Hee, which was lingering in South Korean society. The catastrophe will also relieve South Korean society's emotional sympathy, as well as the psychological and cultural sense of debt, towards the daughter of a tragically assassinated leader. As such, South Korea's democracy will consolidate up to the level of culture and emotion, going beyond the level of institutions. Society will operate and develop based on more rational principles. As this catastrophe is a phenomenon of evolution and a healing or detoxification process for democracy in the long trajectory of South Korean development, it will spur new hope rather than chaos. In South Korea, history is dynamic as always, and democracy is showing startling resilience.
---The views expressed here are those of the author and do not reflect any official position of the East Asia Foundation.
About the Author
Sang-young Rhyu (Professor, GSIS, Yonsei University)
Sang-young Rhyu is a professor of political economy at the Graduate School of International Studies at Yonsei University, Seoul, South Korea. He received his Ph.D. from Yonsei University, majoring in Korean political economy. He served as a senior research fellow at the Samsung Economic Research Institute (1995-2001) and was a visiting fellow at Keio University in Japan (1992-1994) and the University of British Columbia in Canada (2009-2010). As the director of the Kim Dae-jung Presidential Library and Museum (2004-2009), he researched and collected numerous historical records and assembled the Kim Dae-jung Oral History Collection. He has published many articles on the political economy and history of Kim Dae-jung and Park Chung Hee. He is also the editor of EAF Policy Debates. His current research focuses on Korean political history and nationalism with a comparative analysis of Park Chung Hee and Kim Dae-jung.