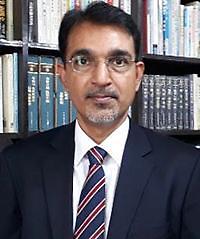 [This article was contributed by Sandip Kumar Mishra, an associate professor at the Jawaharlal Nehru University, New Delhi, India.]

New Delhi -- The Korean cultural wave Hallyu has indeed gone as global as globalization itself. It seems that in almost every city of the world which is connected to globalization, Hallyu is having strong reverberations. In its present avatar, Hallyu is largely led by South Korean pop music and South Korean dramas. Gangnam Style, BTS, BLACKPINK, and Squid Games are global names now. Their popularity could be gauged from the fact that even in a remote city in India, middle school children to college-going students have been talking and following them passionately. Their performances on the big charts are also well reported including their financial worth. There have been several types of research on their origins, course, popularity, and even about their Koreanness, which is another testimony of the success of the Hallyu.

Generally, any explanation or possible reason for the popularity of the Hallyu is generally varied and inconclusive. The first reason for the popularity of the Hallyu across the globe is definitely its content. The content of the Hallyu appears to be the most appropriate for the digital age, SNS age, or social media age. It is important to note that even though various countries have their own distinctive polity, economy, and culture, social media such as Youtube, Facebook, Whatsapp, and Twitter are quite similarly pervasive in most of these countries. These connections are apparently homogenizing otherwise heterogeneous living conditions of people across the globe.

In such an atmosphere, the content which is best suited for the age becomes popular or viral despite differences in the milieu. There have been cases when one song or dance of one country or language becomes viral through social media. Hallyu has been able to do it continuously and it shows its suitability for the internet era. Here it is also being argued that both its being relatable to the people of a country and pure fantasy for the people of another country makes it popular in various countries. For the same reason, not only in neighboring countries but even in France, Hallyu is quite popular.

The second reason for Hallyu's success could be attributed to the constant supply of content. As mentioned earlier, there have been a few other cultural products such as songs, albums, and dramas originating from other countries which become quite popular but it has not been generally possible to supply similar kinds of products constantly. Actually, the production and distribution of Hallyu have been more systematic than most of the other rivals. For example, similar to successful South Korean companies, these products have also been easily available just because of their production and distribution consistency.

Third, the role of the South Korean state, companies, and people is also important in making Hallyu popular. The state feels that in the era of public diplomacy, Hallyu could be an important vehicle for promoting the soft power of South Korea. Here it must be underlined that the role of the government in the popularity of Hallyu has been secondary and the state may be supporting the Hallyu phenomenon, essentially it is autonomous and spontaneous to the state. Companies also support the Hallyu phenomenon as it augments their business in various countries. South Koreans are also passionate about Hallyu as it gives pride to them. People in general feel that Hallyu has significantly enhanced the South Korean image across the globe and it is very gratifying for them.

The fourth and probably most important reason for the success of Hallyu has been the demand of global capitalist economic forces at this vantage point. Throughout the history of capitalism, cultural products are being produced and popularised through advertisement to connect the global capital. Hallyu has also been taken up by the capitalist forces as they have done to Hollywood movies and western pop music.

However, there are two important differences in the case of Hallyu. One, unlike in the past, political dominance does not determine which countries' cultural products are chosen to be advertised and publicized. In the past, the West had the political clout to spread its cultural products but in the case of Hallyu, political imposition has been absent. Two, unlike previous cultural products, Hallyu has been happening in the internet era when people of the world are seamlessly and instantly connected through the World Wide Web. It could be seen that several cultural products now have a global audience who can access them instantly. Such connectivity has provided an important advantage to Hallyu and played an important role in its popularity.

Thus, it could be said that Hallyu has been phenomenal across the globe because of the superiority of its content, appropriateness of its content for the digital era, its systematic production and distribution, efforts of the South Korean government, businesses and people, and most importantly its adoption by the global capitalist forces. It would not be correct to exclude any of these factors in comprehension of Hallyu's popularity, though a few other factors might be added to it.

© Aju Business Daily & www.ajunews.com Copyright: All materials on this site may not be reproduced, distributed, transmitted, displayed, published or broadcast without the authorization from the Aju News Corporation.