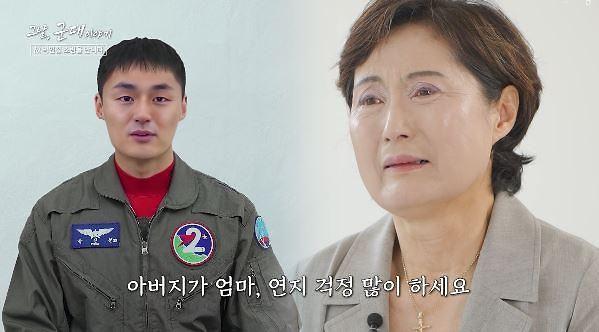 SEOUL -- A South Korean documentary that portrayed the tearful reunion of a sorrow-stricken mother and her son, who died of an unexpected accident during air force training at the age of 27, in the virtual space, has pulled at many viewers' heartstrings. The son named Park In-cheol served as an air force officer and passed away in July 2007 about 50 days after becoming a combat pilot.

"Mom, this is In-cheol. I missed you, mom," the virtual human created using the deceased Major Park's photos and voice recordings said on the TV monitor in front of the mother Lee Joon-shin. "I missed you In-cheol," Lee responded with tears in her eyes. A TV channel run by South Korea's Defense Media Agency showed the virtual pilot communicating with his mother for about 11 minutes.

"I met dad," Park told his mother, adding that his deceased father is concerned about Lee and her daughter Yeon-ji. Park's father was also an airman who died in 1984 during a joint exercise with the United States Air Force.

"You stayed with me for a short time but I really thank you for being born as my son," Lee told her son. The mother also encouraged Park, saying that she is proud of him. The two people saluted each other at the end of their reunion.

The documentary released on July 6 touched the heart of many viewers in South Korea. "How could this happen? My husband is also a soldier and I am raising a son. I am shedding tears because I feel so heartbroken," said YouTube user tym6550.

The virtual human was created based on deepfakes which create moving picture images by compositing a real person's facial images and voice recordings. The defense ministry also utilized Park's video images to actualize his reunion with Lee.

Domestic companies have tried to recreate the deceased into artificial humans. In August 2022, Deepbrain AI, a Seoul-based AI startup, partnered with Preedlife, a domestic funeral service provider, to realize a reunion between children and their dead parents. AI parents, recreated through three hours of filming and interviews while they were alive, can interact with family members in real time.

In a program launched by the production team of MBC, a major TV network, in 2020, a mother met with her daughter, who died of a rare incurable disease at the age of seven. Using virtual reality technology, the reunion took place in a park with memories of the mother and her daughter. The motion of a child model was recorded as motion capture and implemented on the monitor to reproduce the scene at a VR studio.

© Aju Business Daily & www.ajunews.com Copyright: All materials on this site may not be reproduced, distributed, transmitted, displayed, published or broadcast without the authorization from the Aju News Corporation.