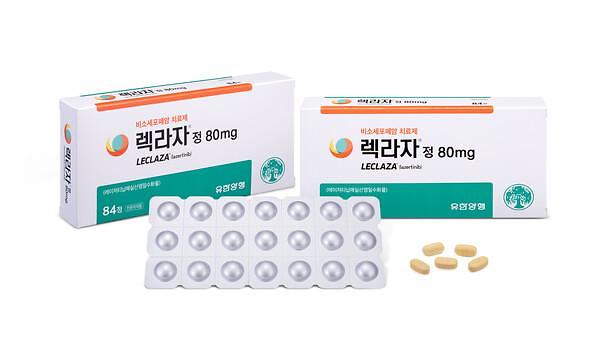 SEOUL -- For the first time in South Korea, Yuhan Corporation, a drug maker, has decided to provide its new drug called "Leclaza" (ingredient: Lazertinib) to lung cancer patients who are receiving their first-line treatment. The drug maker will provide unlimited free access to its cancer drug until South Korea's drug ministry includes Leclaza in health insurance coverage.

Leclaza is a domestically developed targeted anti-cancer agent. It was approved by the drug ministry as the first-line treatment drug for lung cancer on June 30, 2023. Previously, the lung cancer treatment agent could be used for the second-line treatment of locally advanced or metastatic non-small cell lung cancer with a specific genetic mutation (EGFR T790M).

Yuhan held a press conference at a hotel located in central Seoul on July 10 and revealed the company's plan to kick-start an early access program (EAP) for Leclaza. "We will carry out an EAP for Leclaza as a first-line treatment medicine for lung cancer patients until the drug is covered by the national health insurance," Yuan Corporation CEO Cho Wook-je told reporters.

The company said that the medication will be unlimitedly provided free of charge to lung cancer patients through secondary and tertiary medical institutions across South Korea. According to Yuhan, eligible patients will be able to receive the treatment free of charge starting in July.

Patients with advanced or metastatic non-small cell lung cancer who have not previously received treatment for EGFR exon 19 deletion (Exon19del) or exon 21 (L858R) substitution mutations can receive Laclaza as a first-line therapy free of charge. This program will be effective starting this month and will continue until Laclaza is included in the insurance coverage and listed at an affordable price.

"Based on the entrepreneurial spirit of our late founder Ilhan New, we aim to alleviate the economic burden on lung cancer patients who are already facing difficulties due to their illness," said Cho, adding that Yuhan aims to make a profit through the development of new drugs while fulfilling the company's idea of profit-sharing by contributing to the society.



© Aju Business Daily & www.ajunews.com Copyright: All materials on this site may not be reproduced, distributed, transmitted, displayed, published or broadcast without the authorization from the Aju News Corporation.