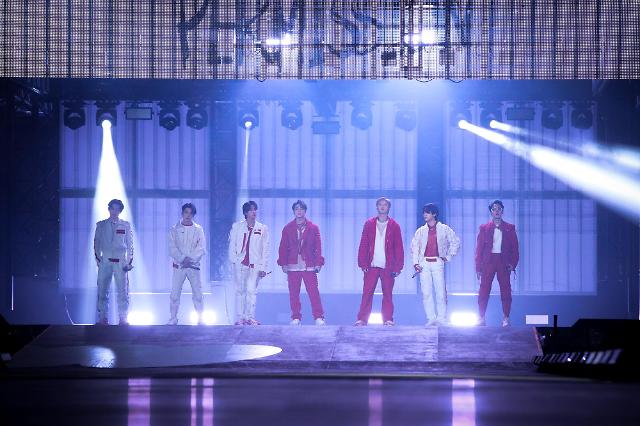 SEOUL -- Korean language-based songs became the third most popular music in the United States after English and Spanish-based music in the first half of 2023, data released by Luminate, a U.S.-based entertainment data provider, showed. The U.S. is currently the second largest K-pop album importer in the world with an import amount of $25.5 million.

In a report titled "2023 Midyear Report," Luminate said Korean songs accounted for 0.9 percent of the top 10,000 most streamed music in the U.S. between December 30, 2022, and June 29, 2023. English content was the most popular music with 88.3 percent, followed by Spanish with 7.9 percent. The entertainment market research firm analyzed that about 40 percent of American music listeners are consuming non-English language-based music and about 69 percent enjoy music from artists from outside the U.S.

According to data provided by the state-run tax organization Korea Customs Service, exports of K-pop albums in the first half of 2023 soared 17.1 percent year-on-year to a record high of $132.9 million. Japan was the largest importer with $48.5 million, followed by the U.S. with $25.5 million and China with $22.6 million. China had been the second largest importer after Japan from 2012 to 2022, except for 2020.

Various K-pop artists have captivated North American fans during the last six months. In April 2023, BTS' Jimin ranked first in Billboard's top 100 popular song chart with "Like Crazy," the title track of his first solo album "Face." Stray Kids, an eight-member band from JYP Entertainment, and TXT, a brother band of BTS, topped Billboard's top 200 popular album chart this year.

South Korea's music album exports have consistently increased since exceeding $40 million for the first time in 2017, surpassing $100 million in 2020, and $200 million in 2021. In 2022, the album exports reached $233 million, up 5.6 percent from a year ago.

© Aju Business Daily & www.ajunews.com Copyright: All materials on this site may not be reproduced, distributed, transmitted, displayed, published or broadcast without the authorization from the Aju News Corporation.