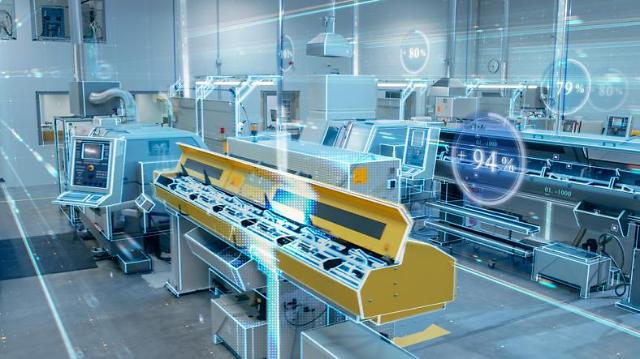 SEOUL -- As part of the country's big push towards the acceleration of the digital transformation of industries, South Korea will inject 28.8 billion won ($22.7 million) to build six "digitally-collaborative" factories in manufacturing sectors such as shipbuilding, carmaking, and machinery by 2025. The smart factories will connect a factory to various bodies including their clients and management to set up a two-way communication system that will optimize the operation and reduce costs.

Digital transformation refers to a process in which a company or organization undergoes structural changes in its systematic infrastructure to turn traditional method-based work processes into more optimized digital-based ones so that companies can increase work efficiency and reduce operating costs.

Many digital transformation processes involve artificial intelligence, big data, and cloud computing to automate work processes so that human workers can focus on more important tasks while robots take care of simple and repetitive chores. Other technologies such as virtual reality (VR) and digital twins are used to duplicate the real world and test and simulate various situations.

The Ministry of Trade, Industry and Energy said that South Korea has kick-started the country's digital transformation project to build six digitally-collaborative factories. 23 small and medium-sized companies and six major companies will participate in the project.

Major shipbuilder Hanwha Ocean will set up a digital factory to commercialize "Rotor Sail," a new type of vertical sail that uses the Magnus effect that can create a forward thrust from winds blowing from the side. Some 20 partners will work with Hanwha to develop the Rotor Sail technology.

In the home appliances sector, LG Electronics will use its collaborative factory with 11 partner companies to establish a virtual platform for the production of compressors for air conditioners. The factory will optimize the cutting environment for parts.

"Now is the time when we need to upgrade the level of digital transformation from individual company levels to digital collaboration systems which can be utilized by companies in the same value chain," the trade ministry said in a statement on July 20.

© Aju Business Daily & www.ajunews.com Copyright: All materials on this site may not be reproduced, distributed, transmitted, displayed, published or broadcast without the authorization from the Aju News Corporation.