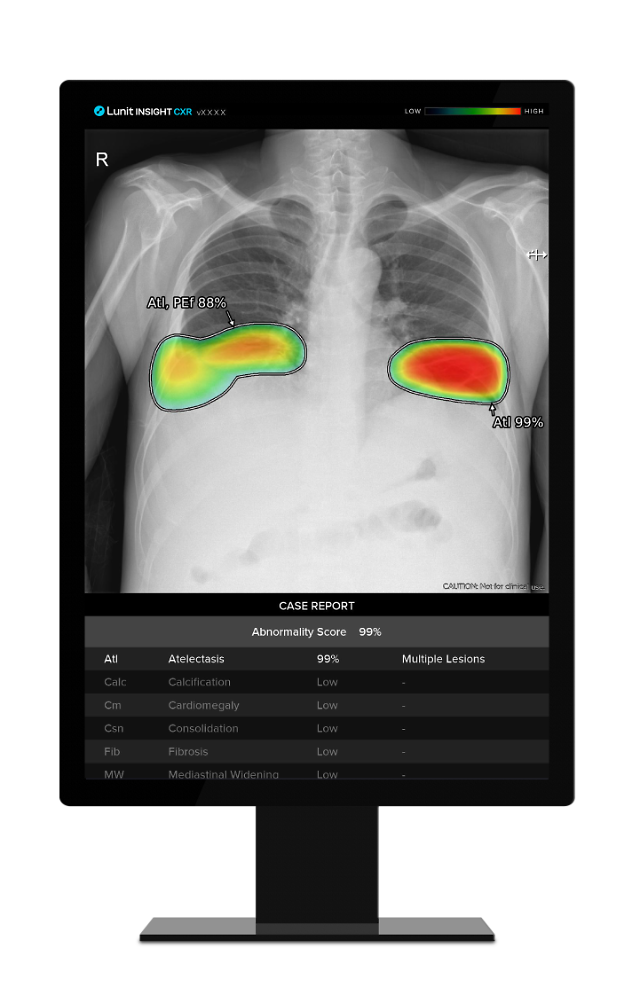 SEOUL -- "Lunit INSIGHT CXR," a chest X-ray analysis solution developed by South Korea's medical artificial intelligence company Lunit, was adopted by the country's national police hospital to detect various types of chest diseases. The solution can significantly help human doctors treat police officers and firefighters suffering from lung diseases.

The AI-based solution is used to compare and analyze X-rays and medical images of patients with chest diseases and healthy people. After detecting an anomaly, Lunit INSIGHT CXR informs human supervisors whether patients should take additional tests. The solution was adopted by Cathay Life Insurance, a major life insurance company in Taiwan, after verifying the analysis software could detect lung cancer and unusual lesions with an accuracy rate of more than 90 percent.

Lunit said in a statement on July 21 that the company partnered with the National Police Hospital to supply its chest X-ray solution for a year. Lunit INSIGHT CXR would be used by pulmonologists and emergency room personnel. "We will try hard to provide AI-based advanced medical services so that public servants can work in a safe environment," Lunit CEO Brandon Suh said in a statement.

According to Suh, lung-related diseases commonly take place among soldiers and police officers as they are affiliated in groups. Lunit said it is currently supplying medical AI solutions for a military hospital and a marine unit on Yeonpyeong Island, which is one of South Korea's five front-line islands.

Lunit has worked with many foreign companies and hospitals targeting the global diagnostic imaging market expected to reach $35 billion by 2026. In July 2022, the medical solution developer agreed to deploy Lunit INSIGHT CXR to Bumrungrad International Hospital, a major hospital in Bangkok. The solution is also being used at Albert Einstein Israelite Hospital, one of the largest medical facilities in Brazil.

© Aju Business Daily & www.ajunews.com Copyright: All materials on this site may not be reproduced, distributed, transmitted, displayed, published or broadcast without the authorization from the Aju News Corporation.