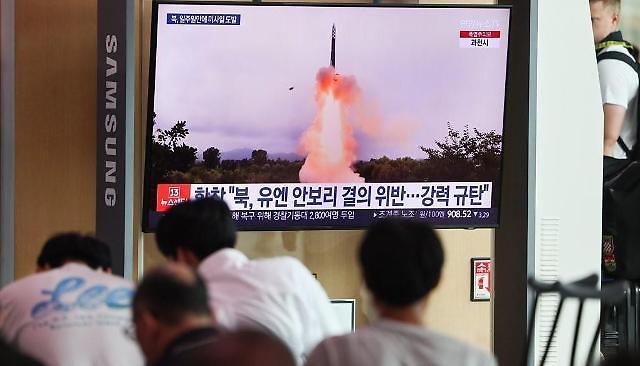 SEOUL -- North Korea has fired two short-range ballistic missiles into the East Sea in less than a day after the United States Navy's nuclear-powered submarine arrived in South Korea's southern resort island of Jeju on July 24.

The South Korean Joint Chief of Staff (JCS) detected two short-range ballistic missiles that were fired from an area near Pyongyang, North Korea, at about 11:55 p.m. (1455 GMT) on July 24. Two ballistic missiles were fired and flew about 400 kilometers (249 miles) before they fell into the East Sea. The JCS said that South Korea's intelligence agency is cooperating with its U.S. counterpart to analyze detailed information about the projectiles.

Pyongyang fired the missiles in less than 24 hours after the U.S. submarine entered South Korean waters on July 24. The South Korean Navy said that an American nuclear submarine called "USS Annapolis (SSN-760)," a 110.34-meter-long Los Angeles-class submarine, arrived at a naval base in Jeju for resupply.

Pyongyang has been busy firing various types of missiles during the last month. On July 22, multiple cruise missiles were fired from North Korea's western coastal area into the West Sea, also known as the Yellow Sea. The JCS did not disclose detailed information about the cruise missiles. Pyongyang launched two SRBMs from Sunan area in Pyongyang into the East Sea on July 19, a day after the launch of the Nuclear Consultative Group (NCG) by South Korea and the U.S.

During South Korean President Yoon Suk-yeol's state visit to Washington in April, Yoon agreed with U.S. President Joe Biden to form the NCG to discuss how to plan for nuclear contingencies and cooperate on the two nations' approach to nuclear deterrence. The group will meet four times a year and the results of the meeting will be reported to the leaders of South Korea and the U.S.

© Aju Business Daily & www.ajunews.com Copyright: All materials on this site may not be reproduced, distributed, transmitted, displayed, published or broadcast without the authorization from the Aju News Corporation.