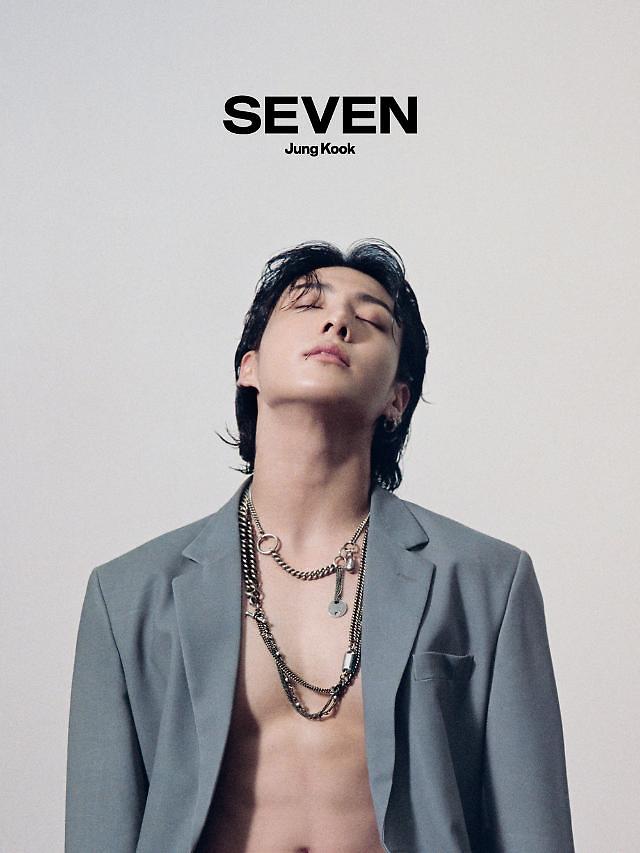 SEOUL -- Jungkook, the youngest artist of BTS, has topped Billboard's top 100 popular song chart with the title track for his first solo album "Seven." The 25-year-old became the second BTS member who ranked first with a solo song in Billboard's weekly chart, followed by Jimin who topped the song chart with "Like Crazy" in April 2023.

"'Seven (feat. Latto)' debuted #1 on the HOT 100! We're always grateful for your love and support," Big Hit said on Twitter after Billboard announced Seven topped the Hot 100 on July 24. Seven's music video gained more than 101 million views 10 days after its release on July 14. Jungkook collaborated with American rapper Latto for his song featuring electronic dance and acoustic guitar sound. The rapper reached the top 3 on the Billboard Hot 100 in 2022 through her rap song "Big Energy."

Along with Jungkook, South Korean actress Han So-hee appeared in Seven's music video. The actress received immense popularity for playing a leading role in the 2020 hit drama series "The World of the Married."

Ahead of his solo debut, Jungkook topped iTunes song charts in some 80 countries including the United States, Canada, and Germany with his self-composed song titled "Still With You." "My You," another self-composed song by the BTS member also topped the iTunes song charts in 15 nations as of July 4.

© Aju Business Daily & www.ajunews.com Copyright: All materials on this site may not be reproduced, distributed, transmitted, displayed, published or broadcast without the authorization from the Aju News Corporation.