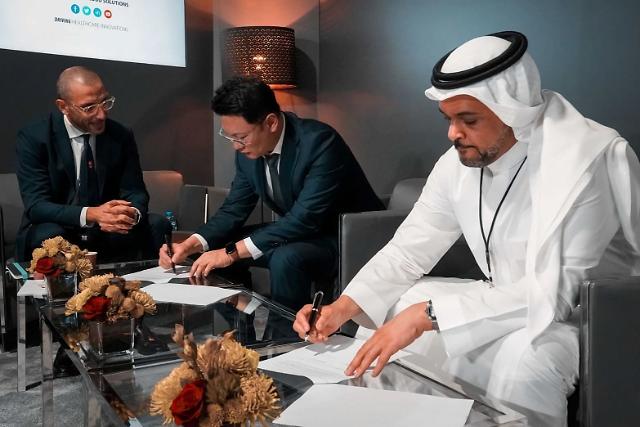 SEOUL -- "Lunit INSIGHT MMG," a solution specializing in detecting breast cancer created by South Korea's medical artificial intelligence company Lunit, will be supplied to hospitals operated by Dr. Sulaiman Al Habib Medical Group, a major healthcare provider in the Middle East. The Saudi Arabia-based group runs more than 20 hospitals in various regions including the United Arab Emirates and Bahrain.

Lunit INSIGHT MMG compares and analyzes X-rays and medical images of breast cancer patients and healthy people. The AI solution informs human supervisors whether patients should take extra tests. In August 2022, the solution was approved by the Taiwanese government's green light for commercialization.

According to Lunit's datasets containing the analysis of 55,579 Swedish women who had received screening tests for breast cancer using Lunit Insight MMG, the teamwork between a human doctor and the AI solution showed a higher cancer detection rate (CDR) than two human workers' collaboration. The solution's CDR was 4.3 per 1,000 people who received breast cancer screening while the CDR by two human workers was 4.1.

Lunit said the company would supply Lunit INSIGHT MMG to all hospitals affiliated with Dr. Sulaiman Al Habib Medical Group for three years. "The partnership holds tremendous potential for Lunit as the healthcare transformation in the Middle East is on the rise and gathers momentum," Lunit CEO Brandon Suh said in a statement.

Suh added: "Our goal is to enhance cancer diagnosis and treatment outcomes by further providing innovative AI-powered solutions to healthcare providers throughout the Middle East." The South Korean company aims to later provide Lunit INSIGHT DBT, an upgraded version of Lunit INSIGHT MMG which accelerates reading by handpicking the three-dimensional slice images.

Data released by market research firm Data Bridge Market Research showed that the medical imaging market in the Middle East which stood at some $2 billion in 2021 is projected to reach $30 billion by 2029. Lunit is currently involved in Saudi Arabia's state project to realize a virtual hospital. The project is part of Saudi Vision 2030, a national project to diversify its economy and nurture its public service sectors such as health, education, and tourism rather than relying on the oil business.

© Aju Business Daily & www.ajunews.com Copyright: All materials on this site may not be reproduced, distributed, transmitted, displayed, published or broadcast without the authorization from the Aju News Corporation.