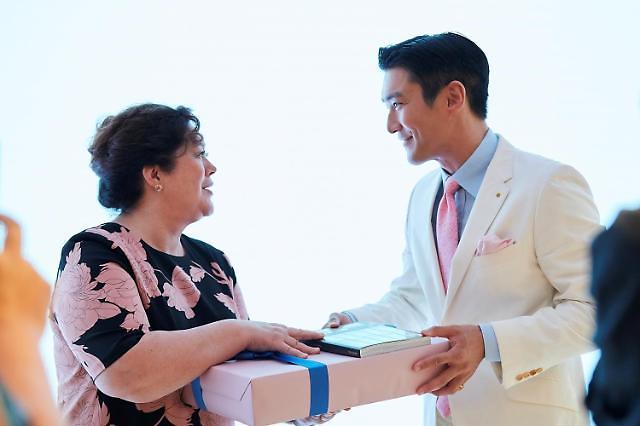 SEOUL -- New Zealand's governor-general Dame Cindy Kiro visited the office of South Korea's entertainment powerhouse SM Entertainment to explore the country's music industry. During the meeting with the agency, the New Zealand delegate of Maori descent suggested discussing collaboration methods with artists of traditional Maori music performance "kapa haka."

Kapa haka is a traditional Maori performing art that involves singing, dancing, and chanting. It is common to experience kapa haka at schools, and during various types of events and festivals. The performing art primarily relies on vocal performance and maintains the rhythm through various elements such as feet slapping against the floor. Performers sometimes use guitars and conch shells.

The governor-general is currently visiting South Korea to mark the 70th anniversary of the armistice that ended the Korean War (1950~1953). Kiro met with South Korean President Yoon Suk-yeol on July 25 to improve bilateral relations in various fields such as tourism and culture.

SM said in a statement on July 26 that Kiro visited its office and encouraged the agency to discuss collaboration methods with kapa haka artists. According to the agency, she learned about the music production process and looked around SM's dance practice room. In the company's recording studio, Kiro sang a Maori folk song titled "Pokarekare ana." The love song is the original version of the Korean language-based song "Yeonga."

The tour was also joined by H.E. Dawn Bennet, the New Zealand ambassador to South Korea. The delegation from New Zealand met with the agency's CEO Jang Cheol-hyuk and Choi Si-won, a member of South Korean boy band Super Junior.

© Aju Business Daily & www.ajunews.com Copyright: All materials on this site may not be reproduced, distributed, transmitted, displayed, published or broadcast without the authorization from the Aju News Corporation.