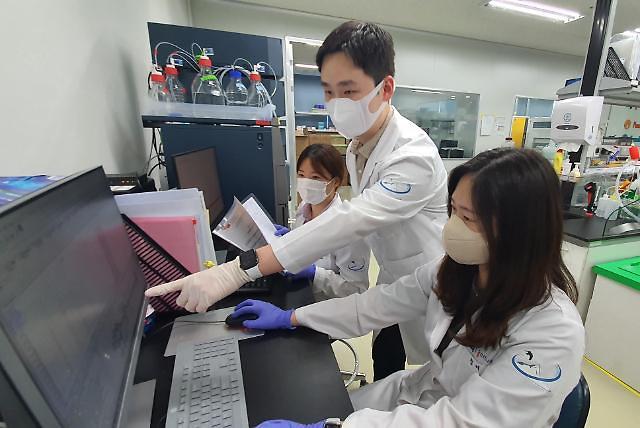 SEOUL -- South Korea's bio-venture company GI Innovation has registered GI-301, an allergy treatment drug, and a microbiome-based combination therapy, at the European Patent Office. Through patent registration, the company can prevent other pharmaceutical firms from commercializing the microbiome by incorporating it into a fusion protein in Europe.

GI-301 is a fusion protein capable of effectively handling allergic reactions with its Immunoglobulin E (IgE), a type of antibody that travels to cells. Because IgE overreacts to an allergen by producing antibodies, it can cause severe allergic diseases such as asthma and atopic dermatitis. According to GI Innovation CEO Rhee Byung-geon, GI-301 showed approximately 70 times higher IgE binding power than other competitive drugs and a significant reduction in blood IgE levels with just a single administration,

GI Innovation said it has registered a patent for GI-301 and microbiome combination therapy in Europe. The microbiome is a cluster of all types of microscopic organisms that co-exist with humans such as bacteria, fungi, protozoa, and viruses. "The combination of GI-301 and probiotics can expand indications for atopic diseases and food allergies that do not have proper treatment methods," Rhee said in a statement on July 26. He added that the company aims to expand its market into other European regions through the registration.

Data released by market research firm MarketsandMarkets showed that the global probiotics market which stood at $57.8 billion in 2022 is projected to reach $85.4 billion by 2027. According to GI Innovation, the European market currently accounts for about 20 percent of the global probiotics market. The South Korean firm said promising European probiotics-related groups include Danone, Probi, and Nestle.

GI Innovation was listed on KOSDAQ, the South Korean version of the U.S. stock market NASDAQ, in March 2023. It had 27 registered patents and completed 138 patent applications as of March 2023.

© Aju Business Daily & www.ajunews.com Copyright: All materials on this site may not be reproduced, distributed, transmitted, displayed, published or broadcast without the authorization from the Aju News Corporation.