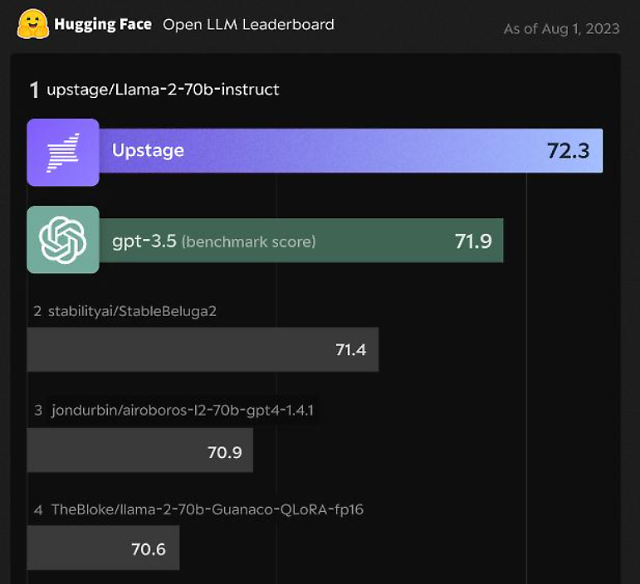 SEOUL -- A generative artificial intelligence service created by South Korea's AI startup Upstage has received the highest score on an international large language model scoreboard run by Hugging Face, a New York City-based AI company. The AI model that can understand, summarize, generate, and predict new content has competed with some 500 models including GPT-3, a Chat GPT-based service.

ChatGPT, made by Open AI, is one of the most widely used large language model (LLM)-based chatbot services. An LLM is normally based on about one billion parameters, variables present in the model. ChatGPT is known to have some 100 billion parameters.

Upstage's language model with about 70 billion parameters has topped Hugging Face's AI language model leaderboard, beating GPT-3, the South Korean startup said on August 1. GPT-3 with a capacity of 175 billion machine learning parameters uses deep learning to produce human-like texts. Upstages' AI model scored 72.3 points and GPT-3's score was 71.9. The score was determined based on four categories -- reasoning, common sense, language comprehension capability, and hallucination prevention.

"Our model scored especially high in the hallucination prevention section which evaluates the ability to avoid generating wrong answers," Upstage's spokesperson Bae Sung-beom told Aju Korea Daily. Bae said the company topped the leaderboard about a week after submitting the new model's data. The AI startup aims to work on a new model that can prevent information leakage.

South Korean companies are striving to gain a competitive advantage in the LLM market. In July 2023, the country's major mobile carrier SK Telecom formed an alliance with three global telecom companies -- Deutsche Telekom, e&, and Singtel to establish a new large language model.

© Aju Business Daily & www.ajunews.com Copyright: All materials on this site may not be reproduced, distributed, transmitted, displayed, published or broadcast without the authorization from the Aju News Corporation.