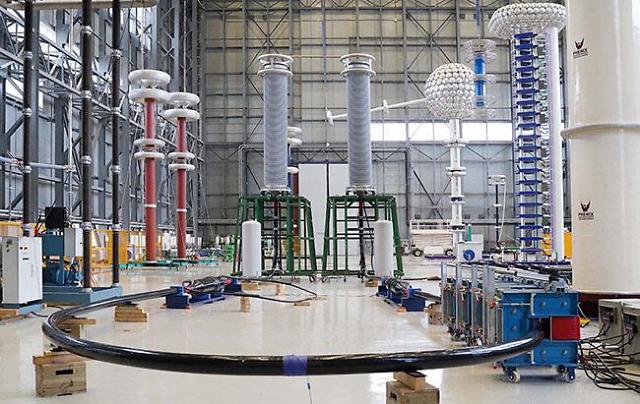 SEOUL -- A 525-kilovolt-class high-voltage direct current transmission cable developed by Taihan Cable & Solution, a power cable and grid infrastructure company in South Korea, has obtained an international certification from a Dutch testing center. The 525-kilovolt-class is currently the highest voltage among commercialized cables.

High-voltage direct current transmission (HVDC) is an advanced electric power technology that converts alternating current (AC) into high-voltage DC. HVDC cables excel in long-distance power transmission, experiencing lower energy losses compared to conventional AC transmission. HVDC technology can be used to expand the acceptance of distributed power.

Taihan Cable said in a statement that its 525-kilovolt (kV)-class HVDC cable received certification from KEMA, a Netherlands-based energy consultancy firm specializing in testing power cables. A kilovolt is equal to 1000 volts. "As investment in power infrastructure expands worldwide, especially in developed markets such as the United States and Europe, we will be able to secure business opportunities in various HVDC projects," an unnamed Taihan Cable official said in a statement on August 2.

The company said it was able to gain certification by raising the allowable conductor temperature to over 90 degrees Celsius (194 Fahrenheit) after designing the conductor cross-sectional area at 3,000 square millimeters. Increasing the cross-sectional area of the conductor and raising the allowable conductor temperature enables the cable to carry a greater amount of current, making it highly advantageous for large-scale power transmission.

According to data cited by Taihan Cable, the global HVDC cable market is expected to reach 159 trillion won ($122.4 billion) in 2030 from 70 trillion won in 2020. In October 2021, Korea Electric Power Corporation (KEPCO), a state power company, opened a test site for the world's highest HVDC cables that could be used for large-scale offshore wind power projects. Cable manufacturers can demonstrate ±800 kilovolt-class HVDC at the test site in Gochang, about 220 kilometers (137 miles) southwest of Seoul. Two HVDC cables can be tested at the same time.

© Aju Business Daily & www.ajunews.com Copyright: All materials on this site may not be reproduced, distributed, transmitted, displayed, published or broadcast without the authorization from the Aju News Corporation.