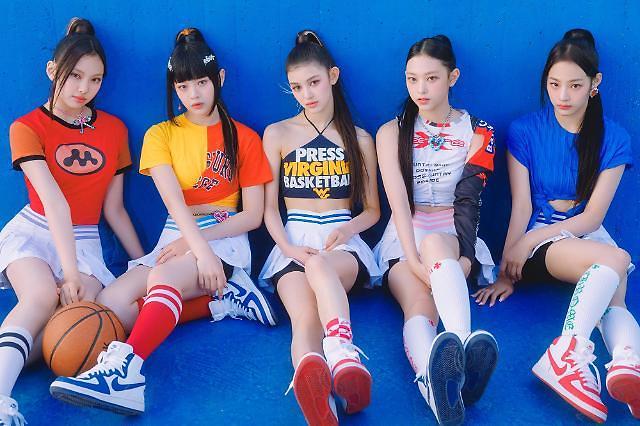 SEOUL -- K-pop super rookie band NewJeans has topped Billboard's top 200 popular albums chart with its mini-album "Get Up." The five-member band topped the Billboard chart about a year after its debut in July 2022.

The album, released on January 21, arrived atop the list on Billboard 200 chart with 126,500 equivalent album units sold in the United States in the week ending July 27. The ranking is confirmed based on the number of album sales, track equivalent album (TEA), and streaming equivalent album (SEA). Three songs in the album -- "Super Shy," "ETA," and "Cool With You" -- are currently listed on Billboard Hot 100, the main singles chart in the U.S.

NewJeans became the second K-pop girl band top the Billboard 200, followed by BLAKPINK which debuted No.1 on the albums chart in September 2022. On August 3, NewJeans will perform at the Lollapalooza Festival 2023, a four-day music festival to be held in Chicago. Lollapalooza is an annual global event that was held in various countries including the U.S., Chile, and Brazil.

The girl band has captivated global fans through dance songs such as Attention, Ditto, and OMG. Attention was selected by Billboard as one of the top 25 K-pop songs of 2022. OMG was ranked seventh among 74 songs of the first half of 2023 by American magazine Rolling Stone. The rookie girl group was formed by ADOR under the command of Min Hee-jin, a genius idol incubator who designed concepts for SM Entertainment groups such as Girls' Generation, f(x), and Red Velvet.

Group members are aged between 15 and 19. The 18-year-old member named Hanni is an Australian of Vietnamese descent. Danielle, an 18-year-old member with dual nationality -- South Korean and Australian -- was born to an Australian father and a South Korean mother.

© Aju Business Daily & www.ajunews.com Copyright: All materials on this site may not be reproduced, distributed, transmitted, displayed, published or broadcast without the authorization from the Aju News Corporation.