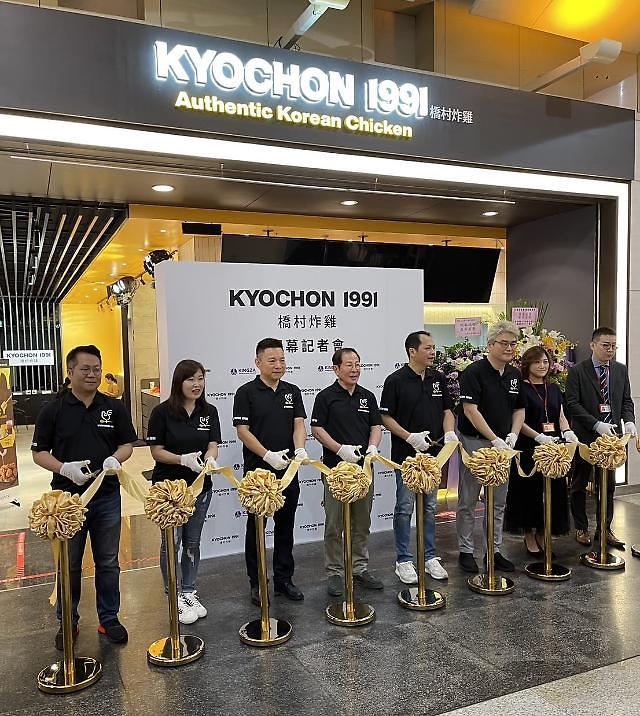 SEOUL -- The operator of South Korea's popular chicken franchise Kyochon has opened the brand's first store in Taiwan's northern city, New Taipei City, with a population of around 4 million. Along with fried chicken, consumers can enjoy other menu items such as craft beer and fried noodles. The fried chicken brand's operator will open its second store in Taipei in October.

The first Kyochon store was launched at a 40 square meter (430 square foot)-wide shopping mall in New Taipei City, Kyochon F&B said on August 3. The company said it would focus on the localization of food menus to target Taiwanese customers. By the end of 2023, Kyochon aims to run three stores in Taiwan. Currently, the franchise operator is running 67 overseas stores in seven countries including the United States, China, and Thailand.

According to Kyochon F&B Chairman Kwon Won-kang, craft beer menus were included so that Taiwanese visitors could enjoy Chimaek, a popular South Korean-style meal combining chicken with beer.

Korean-style fried chicken is the favorite soul food of South Koreans. A 2014 survey of 1,000 people showed that 77.7 percent picked deep-fried chicken pieces smothered in a red, sweet, and hot sauce as their favorite night snack.

In August 2021, Kyochon opened the brand's first store with a cooking robot in the western port city of Incheon that helps its human coworkers in the kitchen. The collaborative robot is programmed to cook fried chicken.

© Aju Business Daily & www.ajunews.com Copyright: All materials on this site may not be reproduced, distributed, transmitted, displayed, published or broadcast without the authorization from the Aju News Corporation.