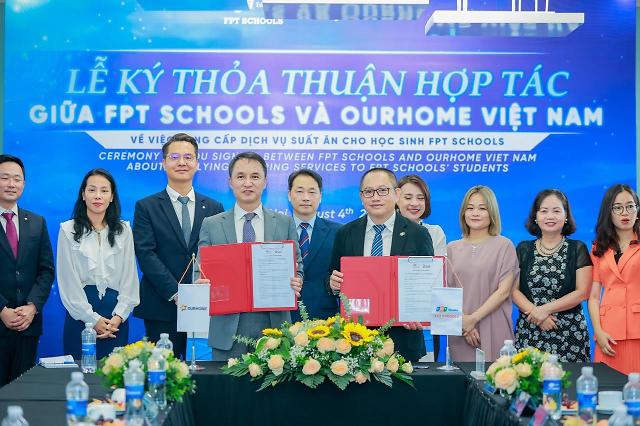 SEOUL -- South Korea's catering giant Our Home will manage school canteens run by FPT Education, a private school operator affiliated with Viet Nam's major IT service firm FPT Corporation. The food company will provide various South Korean food such as Bibimbap, a traditional Korean rice dish with pre-cooked herbs and meat, and Tteokbokki, a menu of finger-sized rice cakes simmered in fiery-red spicy chili sauce.

Our Home said in a statement that the catering firm partnered with FPT Education to supply food and beverage menus at 10 private schools. Tteokguk, a traditional Korean soup made of rounded rice cakes, will be also included in school meals. The South Korean company will also manage canteens at schools that are scheduled to open in the future.

"We will try hard to upgrade our service so that we can provide tasty, nutritious, and reliable meals for FPT students," Our Home's overseas business division head Kim Hwan-seon said in a statement on August 7. Currently, FPT Education's schools are located in various regions including Hanoi, Hai Phong, an industrial port city in northeastern Viet Nam, and Bac Ninh in the northern region.

The company is currently providing food services for more than 3,000 clients in South Korea including LG Electronics, oil refiner GS Caltex, and Seoul National University Hospital. In March 2023, Our Home developed an artificial intelligence-based dietary management solution that can help old people improve cognitive function. Commercialization of the dietary solution can significantly help patients suffering from memory loss.

© Aju Business Daily & www.ajunews.com Copyright: All materials on this site may not be reproduced, distributed, transmitted, displayed, published or broadcast without the authorization from the Aju News Corporation.