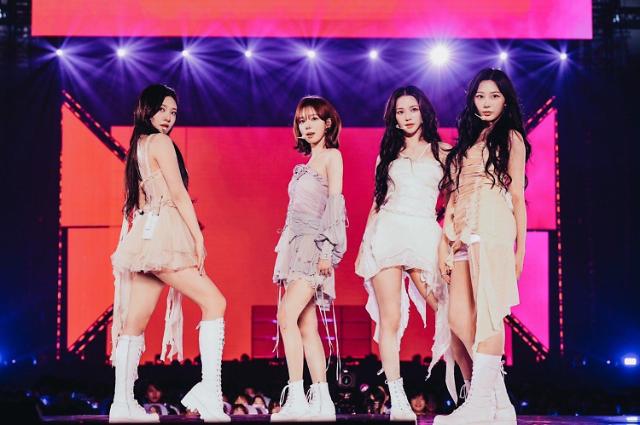 SEOUL -- K-pop girl band aespa has completed its concert at Tokyo Dome, an indoor stadium regarded as the "dream stage" among Japanese artists. About 94,000 audience attended the two-day event. The four-member band will continue its world tour in the United States and other countries in South America and Europe.

"aespa sets the record for holding a concert at Tokyo Dome the fastest since debut among foreign artists," the band's agency said on Twitter after group members completed the concert on August 6. The band showcased talents at the stadium in central Tokyo about two years and nine months after its debut in November 2020.

Tickets for the two-day concert were all sold out, attracting around 94,000 people at the stadium with a total capacity of around 50,000. aespa members presented various songs including "Spicy" and "Welcome To My World." During the event, aespa's Giselle also performed her self-composed song "Keep Going."

The group, launched by South Korea's entertainment powerhouse SM Entertainment, released many hit songs such as "Black Mamba" and "Next Level." The band garnered attention from global fans for special computer-generated avatar members. Avatar characters are involved in independent activities, such as producing their own online content so that real-world members can interact with fans in more diverse ways.

A video showing a virtual entrance ceremony at Soonchunhyang University that was held in collaboration with aespa in February 2022 has gained popularity on YouTube, surpassing 11 million views. The artists welcomed new students through their special performance in the video where many facilities including the school's gate and street were actualized.

© Aju Business Daily & www.ajunews.com Copyright: All materials on this site may not be reproduced, distributed, transmitted, displayed, published or broadcast without the authorization from the Aju News Corporation.