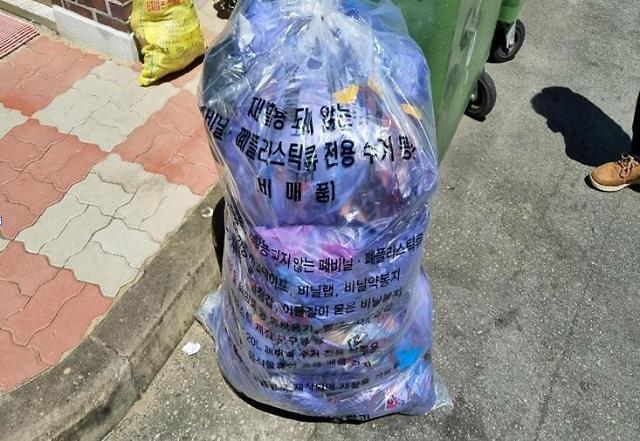 SEOUL -- The southern port city of Gimhae has started the promotion of the separated discharge of plastic and vinyl wastes in an effort to turn plastic wastes into recycled fuel through a pyrolysis technique. The port city aims to encourage citizens to participate in the eco-friendly movement by distributing special 20-liter bags for plastic waste collection.

The pyrolysis technique uses extreme heat and pressure to break down plastic materials into naphtha which is a flammable liquid hydrocarbon mixture fuel. Recycled fuel is processed so that it can be used for electricity generation or other industrial purposes. The South Korean government and major refineries have been developing pyrolysis techniques to efficiently recycle plastic wastes and reduce the emission of carbon dioxide.

Under a compulsory garbage management program, trash generated at homes and stores is sorted by hand before being discharged. Trash is sorted into different categories that are classified based on their base materials such as metal, glass, paper, plastics, polyethylene terephthalate (PET) polymer, and vinyl.

Seoul has mandated the sorting of vinyl waste from plastic waste for efficient recycling in 2020. Those who include recyclable waste in ordinary trash can be slapped with a fine of up to 300,000 won ($228). However, the separation of plastics and vinyl is not compulsory in some areas and normally, vinyl waste is thrown away along with other ordinary rubbish that is sent to waste incineration plants.

Gimhae said that the city started distributing extra rubbish bags to four apartment complexes that house 5,489 families to separately collect plastic and vinyl wastes. The test project will be carried out for three months to raise Gimhae residents' recognition of the separated waste discharge system and encourage citizens to participate in the green project.

Through the pilot program, the southern port city aims to monitor the amount of vinyl and plastic trash discharged as ordinary wastes and set up a plastics garbage retrieval system based on collected data. Gimhae is currently building a government-funded pyrolysis plant for naphtha production that is scheduled to be operable in 2026.

© Aju Business Daily & www.ajunews.com Copyright: All materials on this site may not be reproduced, distributed, transmitted, displayed, published or broadcast without the authorization from the Aju News Corporation.