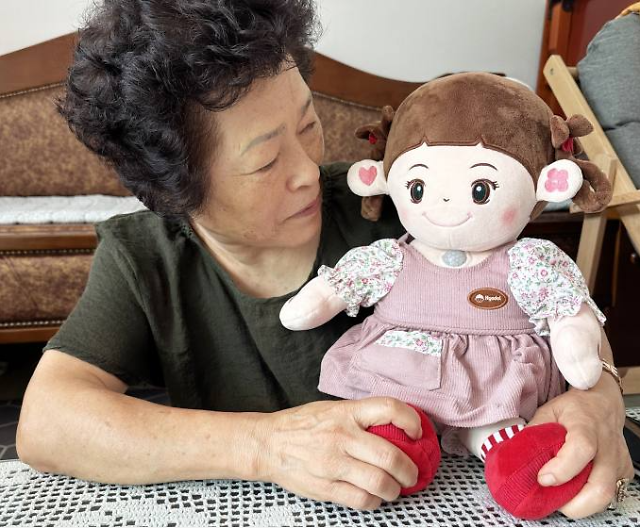 SEOUL -- Artificial intelligence-based care robots were provided to old people living alone in a rural region in South Korea's eastern province. The companion robots help residents become emotionally stable by asking them how they are faring while monitoring their conditions, and warn guardians in case of an emergency.

The robots created by South Korea's AI care robot developer Hyodol were distributed to 15 selected residents, Cheongsong County Office said. The doll-shaped robots can offer personalized notification services such as when to have lunch, take medicine, and wake up. They also give quizzes and play music for lonely residents.

"The AI care robots will greatly help reduce depression by building emotional intimacy with the elderly. It will also be helpful in monitoring their health and preventing safety accidents," Cheongsong Mayor Yoon Gyeong-Hee said in a statement on August 9. After a test run, the county will expand the AI care service depending on the result. As of July 2023, Cheongsong had 9,972 people aged 65 or older, accounting for 41.3 percent of the total population.

In June 2022, Hyodol's robots were also adopted to help residents with mild dementia symptoms at a public health center in Yeoncheon some 59.5 kilometers (37 miles) north of Seoul. They notify human caregivers if residents don't move for a long time.

The number of lonely deaths soared from 2,412 in 2017 to 3,378 in 2021. To prevent tragic lonely deaths, South Korea has adopted various technologies such as internet of things (IoT) sensors that can detect temperature, humidity, and body movements in real-time. In June 2021, KT, the biggest telecom company in South Korea, provided AI speakers and IoT sensors to 100 single households in Gwangju some 268 kilometers south of Seoul. As of March 2020, Seoul has deployed 75,000 IoT sensors at the homes of single-household elderly.

© Aju Business Daily & www.ajunews.com Copyright: All materials on this site may not be reproduced, distributed, transmitted, displayed, published or broadcast without the authorization from the Aju News Corporation.