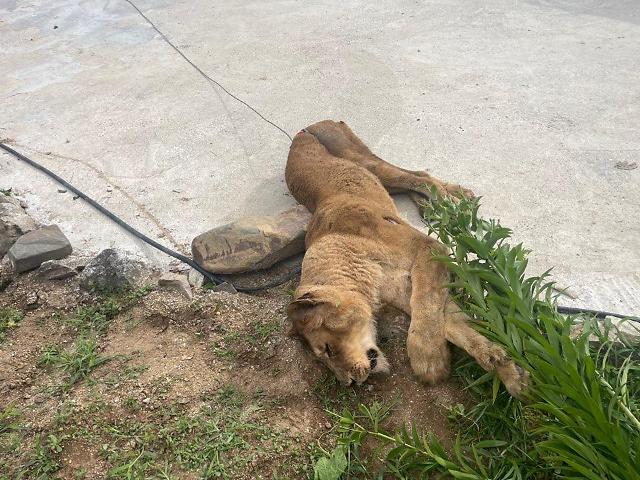 SEOUL -- The great escape by a 20-year-old lioness that escaped from a private farm to a nearby mountain in Goryeong County some 230 kilometers (142 miles) southeast of Seoul came to a climax after a team of hunters tracked down the large feline and killed it.

Predatory animals escaping from a private meat farm or zoo is not very rare in South Korea where anyone with the right documents could set up a small-sized zoo or a facility that displays live predatory animals. It is because private zoos are operated based on a low budget and there are no security systems or only basic ones that provide a minimum level of containment of animals. The law regarding establishing private zoos was revised and all operators have to receive government approval.

Black bear farms were the most common in South Korea where the government had encouraged livestock farmers in the 1980s to operate bear farms for meat and organs that were used as oriental medicine ingredients. There were some 90 farms and 1,454 bears across the country. In 2022, the government announced that bear farms will be banned from 2026 and sanctuaries where bears can safely and comfortably spend the rest of their lives would be set up.

North Gyeongsang Province Fire Service Headquarters said that a lioness escaped from a private farm located in Okgye village, Goryeong County, at about 7:42 a.m. (2242 GMT) on August 14. Hunters were immediately dispatched to the area and the big cat, about 20 years old, was found and killed in a bush about five meters away from its cage at about 8:30 a.m.

According to the emergency headquarters, the private farm in Okgye was operated as a tourist attraction. Goryeong County said that the farm operator received permits for the farm but not for the lioness. The county office suspected the big cat was kept illegally on the farm.

© Aju Business Daily & www.ajunews.com Copyright: All materials on this site may not be reproduced, distributed, transmitted, displayed, published or broadcast without the authorization from the Aju News Corporation.