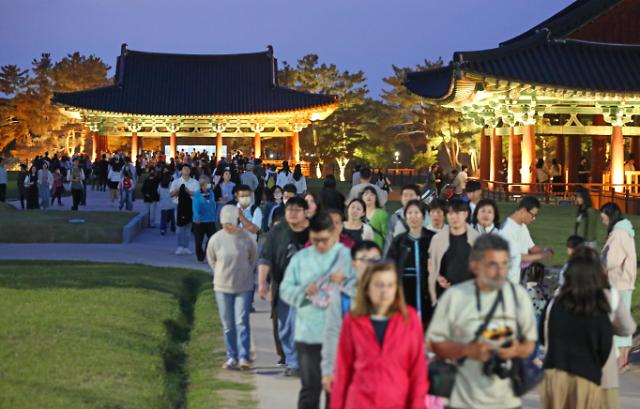 SEOUL -- South Korea's tourism deficit for the first half of 2023 has reached the highest level in five years, data released by the main state tourism promotion body showed. The domestic tourism industry now focuses on whether the tourism balance will improve when Chinese group tourists return to South Korea.

China imposed a ban on travelers to South Korea as part of retaliatory steps over the installment of an Advanced American missile shield system in 2017. About eight million Chinese tourists visited South Korea in 2016 and the big-spending tourists were welcomed by duty-free shop operators and shop owners in tourist hotspots. China has been regarded as Asia's biggest consumer of Hallyu which boosted sales of South Korean cosmetics and other K-pop-related products.

In early August 2023, China lifted the travel ban to South Korea for the first time in six years and five months. According to sources from China's travel industry, 52 cruise boats scheduled to depart China on August 11 to visit South Korea's southern resort island of Jeju were fully booked in just one day. South Korea's duty-free industry welcomed Beijing's decision with open arms, hoping to regain its former sales level.

According to data released by the Korea Tourism Organization on August 14, the tourism balance for the first half of this year amounted to a deficit of $4.65 billion. This was the highest in five years since the first half of 2018 (-$706 million).

The tourism deficit has persisted for 22 consecutive years from 2001 to last year, and it is expected to continue for the 23rd year in 2023. The size of the deficit peaked at about $14.7 billion in 2017 and then decreased. It further decreased to $8.52 billion in 2019 and dropped to $3.18 billion in the first year of the COVID-19 pandemic, 2020.

However, it is increasing again after South Korea and most of other countries re-opened their borders. Some 9.9 million South Korean people headed to overseas countries in the first half of 2023 to spend some $11.5 billion, while foreign travelers in South Korea spent some $6.9 billion.

During the first half of this year, some 546,000 Chinese tourists visited South Korea, which accounted for 19.5 percent compared to the number of Chinese tourists in the first half of 2019. There were about 514,000 American tourists, up 101.9 percent compared to the same period in 2019.

Additionally, tourists from six Southeast Asian countries including Thailand, Singapore, Malaysia, Indonesia, the Philippines, and Vietnam reached 931,000, recovering up to 73.5 percent of the first half of 2019.

© Aju Business Daily & www.ajunews.com Copyright: All materials on this site may not be reproduced, distributed, transmitted, displayed, published or broadcast without the authorization from the Aju News Corporation.