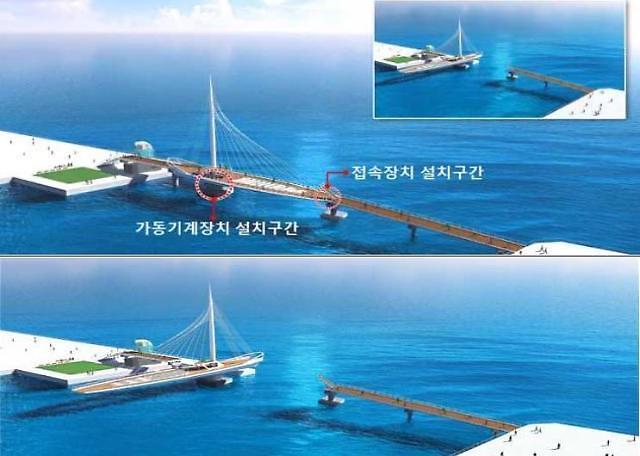 SEOUL -- South Korea's main maritime gateway in the southern port city of Busan will create the country's first swing bridge in its northern port area by 2026. A part of the 171-meter-(561-foot)-long bridge would swing to open a bridge span between support columns when yachts and ships approach and one side of the bridge will move in the horizontal direction.

The Busan Port Authority (BPA) said the swing bridge that connects a park with a maritime recreation center will be built by injecting 30.1 billion won ($22.4 million). "Because the bridge will be built about five meters above the water surface, it will move when a ship taller than five meters approaches," the BPA's spokesperson Lee Hyeong-min told Aju Korea Daily on August 17. Construction for the swing bridge will begin in January 2024.

The BPA has not disclosed details regarding what time and how often the bridge will move. Special lighting equipment will be installed on the new bridge so that visitors can enjoy the night view. The color of the lighting will change depending on the wind speed.

Along with Yeongdo Bridge, the port city's iconic drawbridge that lifts up a section to allow vessels to pass through, the port operator said the new swing bridge would become Busan's tourist attraction. The drawbridge connects Busan's southern island of Yeongdo and the mainland.

Busan is a popular tourist city favored by many travelers. Before the COVID-19 pandemic hit South Korea, about 2.7 million foreign tourists annually visited the city. Lotte Shopping, a retail company affiliated with Lotte Group, revealed its plan to build the country's third tallest skyscraper in the southern port city to attract more than one million tourists annually.

© Aju Business Daily & www.ajunews.com Copyright: All materials on this site may not be reproduced, distributed, transmitted, displayed, published or broadcast without the authorization from the Aju News Corporation.