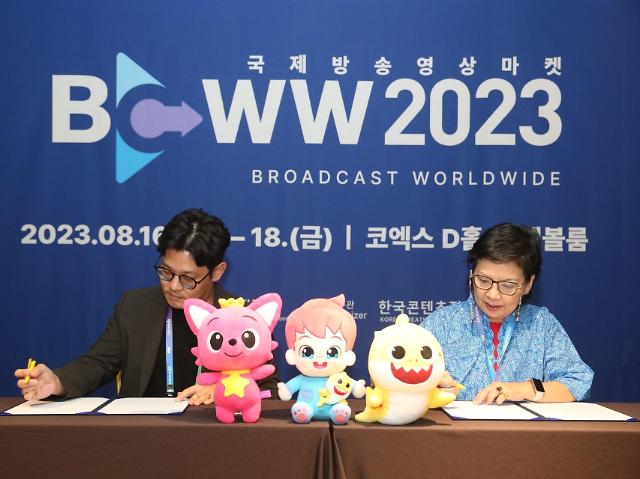 SEOUL -- The Pinkfong Company, famous for its children's YouTube mega-hit song "Baby Shark, has partnered with the operator of RTV, a major television network in Indonesia, to provide various movies and TV series. A total of 65 episodes will be broadcast in the Southeast Asian country with the world's fourth-largest population.

Data released by Pinkfong showed that RTV has more than 90 percent of viewers across Indonesia. As of August 2023, the country had some 277 million people. According to the Baby Shark creator, its social media dance challenge campaign known as "BabySharkChallenge" was especially popular among Indonesians.

Pinkfong said in a statement on August 18 that its content including "Pinkfong Wonderstar" and "Baby Shark Brooklyn Doo Doo Doo" would be provided to RTV. The South Korean entertainment company aims to gain more Southeast Asian fans starting with the partnership. To target local consumers, Pinkfong said it has worked with several Indonesian companies such as a subsidiary of Unilever Indonesia, a Jakarta-based ice cream producer, to launch and promote new ice cream products.

Baby Shark content has received enormous popularity worldwide. Baby Shark depicts a story about a family of great white sharks with colorful visuals and a catchy melody. The "Baby Shark Dance" video uploaded in 2016 currently has more than 13 billion views on YouTube. As of November 2022, the Baby Shark song was streamed more than 200 million times on the UK Singles Chart, beating Despacito, a Spanish song released by Puerto Rican singer Luis Fonsi.

Pinkfong has collaborated with foreign voice actors to produce content in different languages. The company's communications manager Yeon Hee-jae told Aju Korea Daily that choosing the right words that fit each culture has been quite challenging when translating original lyrics into other languages.

© Aju Business Daily & www.ajunews.com Copyright: All materials on this site may not be reproduced, distributed, transmitted, displayed, published or broadcast without the authorization from the Aju News Corporation.