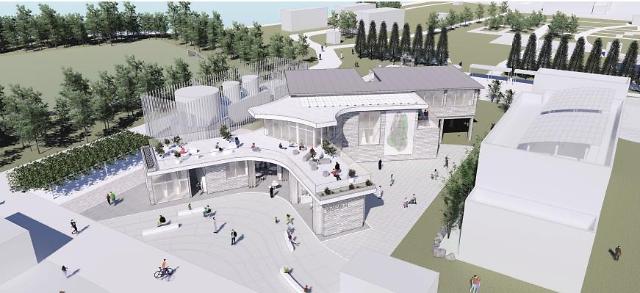 SEOUL -- A "workcation" center where IT employees can spend their vacation while handling important tasks will be built in a campsite located in South Korea's southeastern county of Namhae. Visitors can enjoy a coffee at a cafe on the first floor and engage in their projects with co-workers on the second floor.

Workcation is a combination of "work" and "vacation." Unlike conventional remote working, the new work trend allows employees to work in tourist areas such as the southern resort island of Jeju. According to the Namhae County Office, the operator of the famous South Korean fintech service "Toss," aims to create a working environment with the same conditions as its Seoul office in southeastern Namhae.

Namhae said in a statement that an 833.53 square-meter-wide workcation facility, which is the size of three tennis courts, at Angangda Forest. The first floor will house a cafe and a coworking space while the second floor will be only offered to designated companies. Construction of the building, which is set to be completed in May 2024, will begin this month.

Remote working has become prevalent after the outbreak of COVID-19 in 2020. A survey of 897 workers conducted by education company Hunet in 2021 showed that 78.3 percent of workers have worked remotely from home. On a scale of 1 to 5, the average satisfaction level was 4. Half of the respondents answered that remote working is efficient and similar to working in the office.

A report released by pollster Gallup Korea in 2021 showed that about 81 percent of employees aged 25 to 34 wished to increase remote working hours in the future.

© Aju Business Daily & www.ajunews.com Copyright: All materials on this site may not be reproduced, distributed, transmitted, displayed, published or broadcast without the authorization from the Aju News Corporation.