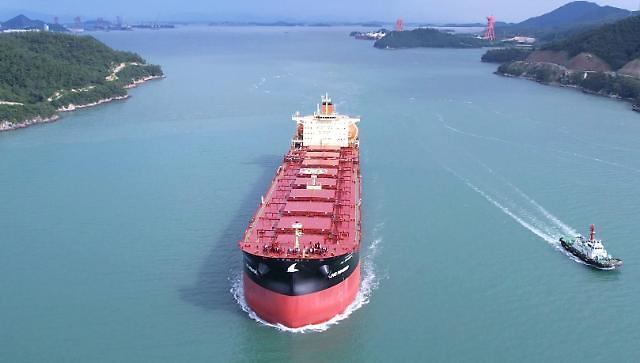 SEOUL -- HD Korea Shipbuilding & Offshore Engineering, the holding company of Hyundai shipbuilding group, has built and delivered the world's first liquefied natural gas-propelled bulk carrier installed with an artificial intelligence engineer. The robot engineer will autonomously monitor for parts malfunctions and emergency situations such as fire.

AI engineers or AI-based monitoring solutions collect data such as sounds machines make and the amount of heat and steam that radiate from facilities to predict the timing of parts malfunctions or detect emergency situations. When an anomaly is detected, the AI robot will alert human operators about the situation and try to control the disaster until its human counterparts take over.

HD Korea Shipbuilding & Offshore Engineering (HD KSOE) said that the company recently built and delivered a 180,000-ton-class liquefied natural gas (LNG)-propelled bulk carrier to H-LINE Shipping, a South Korean marine carrier company. The vessel was equipped with two autonomous AI-based solutions -- HiCBM, an integrated ship status monitoring solution, and HiCAMS, an integrated safety control solution. HD KSOE said the robots can play the roles of engineers and deckhands.

The two solutions, jointly developed by HD KSOE and H-LINE Shipping, were approved by the American Bureau of Shipping, one of the main ship safety classification organizations in the United States, in September 2022 during the test operation of ships equipped with AI solutions, for their safety and reliability, according to the South Korean ship maker.

"The coming of the era of AI and digital technology-based autonomous vessels is inevitable. We will pave a new road for the commercialization of autonomous ship technologies by using this autonomous solution as a stepping stone," HD KSOE's Senior Managing Director Kwon Byung-hoon said in a statement on August 24.

© Aju Business Daily & www.ajunews.com Copyright: All materials on this site may not be reproduced, distributed, transmitted, displayed, published or broadcast without the authorization from the Aju News Corporation.