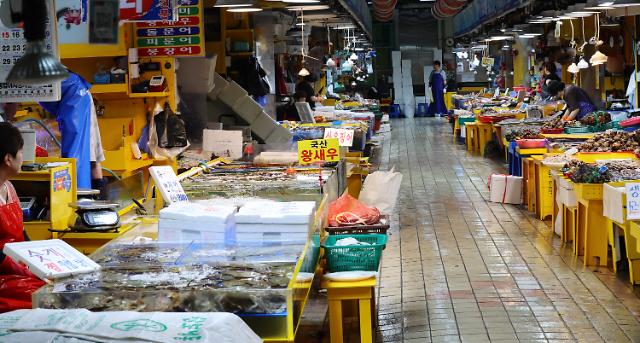 SEOUL -- Consumption of seafood in South Korea has decreased for six consecutive quarters since 2022, one year after Japan announced that the country decided to release contaminated water from the Fukushima nuclear power plant, the world's worst nuclear disaster site since the Chornobyl nuclear disaster in 1996, into the Pacific Ocean.

Data released by South Korea's state statistical information service on August 27 showed that the monthly average amount of money spent on purchasing fresh seafood products in the second quarter of 2023 was 17,000 won ($12.84), down 9.8 percent compared to the same period in 2022. The term fresh seafood product refers to seafood that is uncooked or unprocessed.

The general consumption of fresh seafood products in South Korea started to decrease in 1Q 2022 when the Japanese government announced that it would one day have to discharge contaminated cooling water from the Fukushima nuclear disaster site into the sea. The consumption turned into a minus in 1Q 2022, down 4.2 percent on-year. The decrease in consumption continued to drop in 2Q 2022 (-6.5 percent), 3Q 2022 (-10.2 percent), 4Q 2022 (-7.9 percent), 1Q 2023 (-6.6 percent), and 2Q 2023 (-9.8 percent).

Despite South Korea's seafood market entering one of its busiest seasons at the end of the summer with seasonal shrimps and spotted sardines, various media reports showed that popular seafood marketplaces in Seoul and other parts of the country saw very few customers during the last weekend. People are complaining via online communities and social media services about the discharge of Japan's contaminated water and expressed fear about eating contaminated seafood.

Contaminated water, referred to by Japan as "treated water" by Japan, is subterranean water that came in contact with Fukushima's reactor that was melted down and has not yet been retrieved. The water is collected and treated through a process described as the advanced liquid-processing system (ALPS) and stored in more than 1,000 stainless steel canisters on the abandoned nuclear power plant site.

The water that was used as a coolant for the reactor contains radioactive elements including cesium-137, strontium-90, hydrogen-3 known as tritium, and iodine-131. The ALPS process removes 62 of the 64 radioactive elements to bring the concentration level of radionuclides below Japan's regulatory limits set in 2022. The ALPS process does not remove carbon-14 and tritium. Japan started discharging the treated water into the Pacific Ocean on August 24, 2023.

According to Tokyo, contaminated water stored in metal canisters will be treated using the ALPS facility and discharged into the sea near Fukushima after it is diluted with seawater. According to Tokyo Electric Power Company (TEPCO), about 31,200 tons of contaminated water will be discharged into the ocean by March 2024. The amount would be about 2.3 percent of some 1.33 million tons of water collected in Fukushima.

© Aju Business Daily & www.ajunews.com Copyright: All materials on this site may not be reproduced, distributed, transmitted, displayed, published or broadcast without the authorization from the Aju News Corporation.