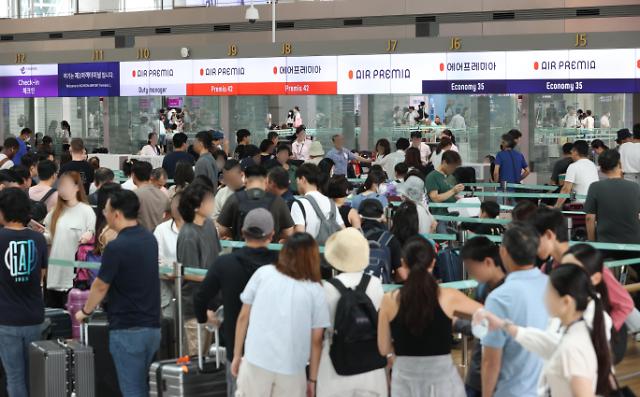 SEOUL -- South Koreans are racing to book flight tickets to Asian and Southeast Asian countries including Japan, Viet Nam, and Thailand to spend their golden six-day "Chuseok," Korean traditional autumn harvest festival, scheduled for the last week of September. As a result, tickets for some popular routes have already been sold out.

Chuseok is the largest traditional festival holiday in Korea where family members gather to celebrate the full moon, based on the lunar calendar's August 15. It is equivalent to Christmas in the Western world. Many families prepare dozens of food dishes to hold a memorial ceremony for their deceased ancestors before all family members sit around tables for a massive festival meal.

Until the early 2000s, Chuseok was considered to be the biggest annual family event in which sometimes up to more than 20 family members would gather at the eldest sibling's house to talk, eat, drink, and play traditional games for at least three days. When the lunar calendar for August 15 is scheduled just before or after weekends, the harvest festival is extended.

It was common for people to move by bus, train, or car for hours to visit their hometowns to attend the family memorial ceremony. But the tradition started to fade away in the 2010s when young South Koreans saw Chuseok as a good opportunity to get away from complicated family affairs and visit nearby countries.

According to various flight ticket reservation services, the reservation rate of flag carriers' international flight tickets during Chuseok and the following weekend is up to 90 percent higher than in previous years. Without disclosing the reservation rate, Korean Air said that domestic tickets are almost sold out.

Asiana Airlines said reservation rates for routes to Southeast Asian countries and Japan are very high compared to the last few years, while the rates for long-distance routes headed to North America and Europe are also higher than in previous years.

© Aju Business Daily & www.ajunews.com Copyright: All materials on this site may not be reproduced, distributed, transmitted, displayed, published or broadcast without the authorization from the Aju News Corporation.