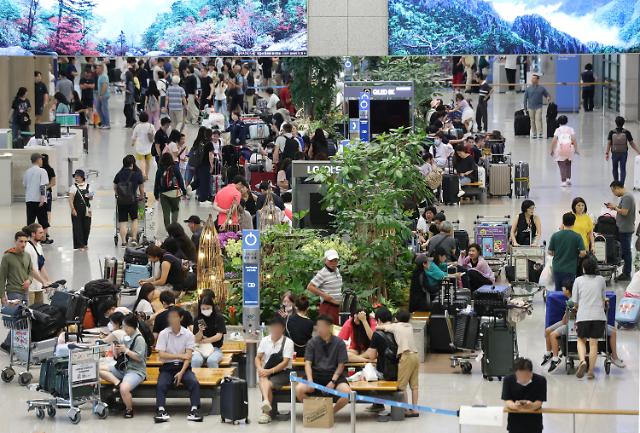 SEOUL -- South Koreans prefer to receive travel recommendations from friends and relatives rather than to seek travel spots themselves, a survey showed. The second-most preferred source for travel destinations was online blogs.

According to a July 2023 summary for a weekly survey of 500 South Korean people aged 19 years and older, released by global market research firm Consumer Insight on August 30, 43.5 percent of people chose their travel destinations in July based on recommendations from friends and relatives. 30.1 percent chose their travel spots based on blogs while 19.2 percent decided after watching social media posts.

24.5 percent of people went on a trip to enjoy beautiful scenery while 21.8 percent left behind their everyday lives to relax. 15.4 percent used their travel opportunities to meet friends or relatives. 13 percent went on a food trip to enjoy a variety of dishes that are unique to different regions.

About 52 percent of people went on an overnight trip to spend an average of 230,000 won ($173) per person. 27.7 percent of people stayed at hotels while 21.4 percent stayed at pensions. 42.2 percent of people felt that they spent more money on trips in 2023 than they did in previous years. This was due to an overall price hike that can be witnessed in almost every industry because of the increased consumer prices including fuel, food, and accommodation.

For their future travel destinations, 48.7 percent chose the eastern province of Gangwon. The eastern province has both alpine areas and coastal areas where people can engage in seasonal leisure activities such as skiing or scuba diving.

The second-most popular future travel spot was the southern resort island of Jeju (45 percent). The popularity of Jeju has decreased for more than 12 consecutive months after traveling on the island has become too expensive during the COVID-19 pandemic.

© Aju Business Daily & www.ajunews.com Copyright: All materials on this site may not be reproduced, distributed, transmitted, displayed, published or broadcast without the authorization from the Aju News Corporation.