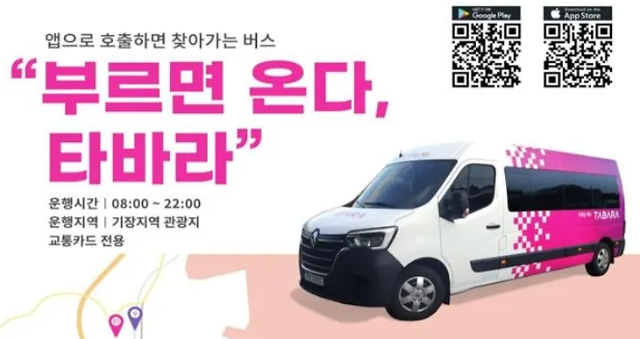 SEOUL -- South Korea's southern port city of Busan will release an English language-based bus hailing application for foreigners. The bus will take passengers to the closest bus stop to their destination. The city is looking into connecting the new transport service with a tourist pass service that allows foreigners to visit tourist attractions and use public transport using a single plastic or digital app card.

According to the Busan Tourism Organization, about 2.7 million foreign tourists visited the port city in 2019, before the first wave of the COVID-19 pandemic hit South Korea. The number of registered foreigners in Busan increased to 42,863 in 2022 from 39,420 in 2021.

Busan unveiled its plan to demonstrate five smart buses in the southern district of Gijang for a year starting on September 1. The buses named "Tabara" can be hailed through a smartphone app and take passengers to 15 designated stations. Tabara, spoken in Busan dialect, means "Hey, get a ride."

"The English version of Tabara will be released in late September," Busan City's spokesperson Lee Han-na told Aju Korea Daily on August 31. "It is uncertain whether Tabara will later provide other foreign languages," she said, adding that the city is considering connecting the service with the tourist pass service called "Visit Busan Pass." Through the tourist pass service, foreigners can visit various tourist spots including a theme park and an observatory. It offers up to 70 percent discount on ticket prices.

Tabara's fare will be the same as other city buses in operation. Most passengers aged 19 and older are required to pay 1,200 won ($0.91) for regular buses. Busan's transportation bureau Jung Im-soo said the smart bus service will be expanded to other regions depending on the demonstration result.

© Aju Business Daily & www.ajunews.com Copyright: All materials on this site may not be reproduced, distributed, transmitted, displayed, published or broadcast without the authorization from the Aju News Corporation.