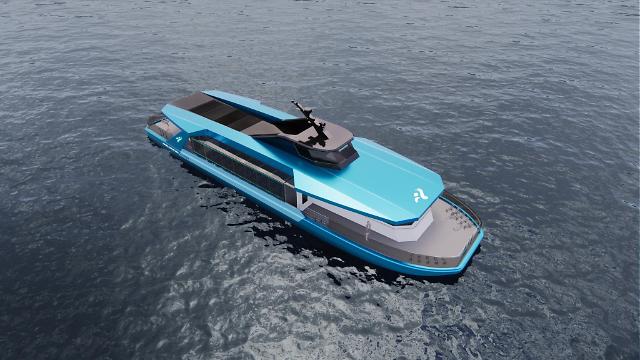 SEOUL -- A water bus that can carry 199 passengers and cross the river will start its operation in 2024 on the Han River that flows through Seoul. The capital city will improve various problems found in its water taxi service which is barely used by commuters. Seoul said the water taxis have been shunned by Seoulites due to the lack of infrastructure that enables passengers to transfer to ground transportation such as buses.

In October 2007, Seoul launched the river taxi service on the Han River to help busy commuters. However, an average of only 32 people used the service on a daily basis to commute to work in 2020, and the number decreased to less than 10 in 2021. According to Seoul's spokesperson Lee Jin-oh, it's been difficult for water taxi passengers to find other transportation after getting off the taxis around the dock. The river taxi fare was also more expensive than regular buses. While most passengers aged 19 and older are required to pay 1,200 won ($0.9) for regular buses and subway trains, the river taxi fare is 5,000 won.

"We are looking into building the water bus dock near bus stops or subway stations to help passengers get to work on time," Lee told Aju Korea Daily on September 5. The river bus will take passengers on a 30-minute route from the Ara Han River Gabmun dock in Seoul's western district of Gangseo to Yeouido, an area near central Seoul where the National Assembly building is located, and back. The city plans to run the river bus every 15 minutes during rush hour.

Lee said the city is also considering providing its public bicycle rental service called "Ttareungi" near the dock. The bikes can be easily rented just by entering the password or through a QR code-based verification method at designated stations. Anyone aged over 13 can rent a Ttareungi for 1,000 won.

"We have not confirmed the fare for water buses but we are considering it to be lower than existing public transportation," Lee said, adding that the city would allow urbanites to use the service at a low price. Seoul plans to allow passengers to take river buses using T-Money Card, a transportation card that is used like a debit card or pre-paid card by public transport riders in South Korea.

To launch the service by September next year, Seoul is currently working with E-land Group, a conglomerate in South Korea involved in various businesses including construction, retail malls, and restaurants. The river bus service will be run by E-land Cruise, the river cruise service operator affiliated with E-land Group.

© Aju Business Daily & www.ajunews.com Copyright: All materials on this site may not be reproduced, distributed, transmitted, displayed, published or broadcast without the authorization from the Aju News Corporation.