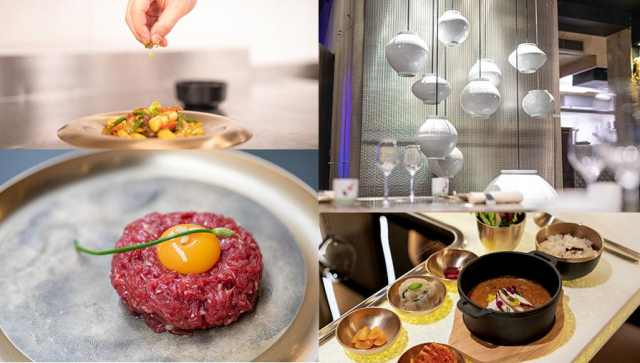 SEOUL -- A survey conducted by Seoul City showed that most foreigners revisit the capital city to taste Korean food again. The second primary reason for the revisit was shopping and the third was because they were satisfied with the country's weather and seasons.

In a survey of 500 expats who visited South Korea more than once jointly conducted Seoul Tourism Organization, the "K-food" section received the highest score of 79.5, followed by "shopping" (73.2), and "weather and seasons" (72.9). "We calculated the average after asking tourists to rate each section on a scale of zero to 100," the tourism organization's spokesperson Lee Jeong-soo told Aju Korea Daily on September 15. The online survey was conducted between July 12 and July 23 among foreign travelers from five countries -- the United States, Japan, China, Thailand, and Britain.

While the food category received the highest score among Thai and Japanese tourists, the weather and seasons section was top-rated by Chinese tourists. Americans were mostly interested in South Korean culture. Among the tourism activities, tourists who revisited Seoul experienced "shopping" the most with 52.6 percent, followed by "exploring famous restaurants and gourmet foods" (49.2 percent) and "enjoying natural and urban scenery" (40.4 percent). In a survey of 500 foreigners who have not yet visited Seoul, the tourism group said the "language barrier" was selected as the main reason with 52.4 percent.

South Korea's food industry has strived to captivate foreign consumers. CJ Cheiljedang, a key subsidiary of South Korea's food and entertainment conglomerate CJ Group, has recorded 11.1 trillion won ($8.35 billion) in food sales in 2022. The company that gained global popularity through a Korean cuisine brand called "Bibigo" has recently started selling its seaweed-based snack across the United Kingdom.

In 2022, Nongshim, the producer of Shin Ramyun (or ramyeon), a top South Korean brand of instant noodles well known for its spicy flavor, recorded 3.1 trillion won in sales, up 17.5 percent on-year. Ramyeon brands appeared in various Korean films including the Oscar-winning film "Parasite." Exports of the instant noodles soared 17.7 percent year-on-year to a record high of $522 million during the first seven months of 2023.

© Aju Business Daily & www.ajunews.com Copyright: All materials on this site may not be reproduced, distributed, transmitted, displayed, published or broadcast without the authorization from the Aju News Corporation.