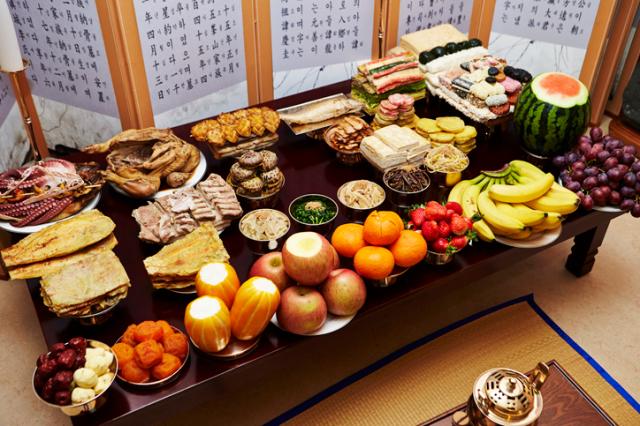 SEOUL -- South Korean retail giants including Shinsegae have set out to attract busy city dwellers and housewives with pre-cooked or heat-and-eat menus that are used for a Confucian rite that is carried during the traditional Korean autumn harvest festival called "Chuseok." The three-day festival holidays are celebrated on August 15 of the lunar calendar.

On Seollal, the Lunar New Year Day in Korean language, and Chuseok, non-Christian families normally prepare a table full of dishes containing meat, fish, rice, vegetables, fruits, and confectioneries for a rite called "Charye." Through the ritual based on Confucian beliefs, families make offerings to their deceased ancestors, requesting prosperity, good luck, and the well-being of their descendants.

Many families take the preparation of Charye very seriously. Wives of families would normally gather at the eldest family member's home a few days prior to Seollal or Chuseok to prepare dishes for the rite. Ordinarily, some dozen dishes will be put on the Charye table while some families will serve dozens of dishes.

Because preparing the Charye table is a time-consuming and burdensome task, retail giants like Shinsegae and Lotte released various pre-cooked dishes for the Chuseok rite. Emart, the megastore wing of Shinsegae, said that sales of its private brand (PB) Charye products, designed to help busy working people prepare the ritual meal, between September 15 and 19, about two weeks before Chuseok, increased by 39 percent compared to the same period in 2022.

Lotte Department Store, the department store wing of Lotte, started the sales of easy preparation packages containing pre-cooked soup, vegetables, meat, and other menus. The cheaper version of the Charye meal package costs 250,000 won ($186) while the standard version costs 350,000 won. The agriculture ministry predicted that it would cost an average of about 350,000 won to prepare the Charye meal for a four-person family.

Among the extravagant dishes used in the rite, rice cake soup called "Tteokguk" is offered on Seollal and rice cakes called "Songpyeon" are used in the Charye rite on Chuseok. The ritual is carried out by family members standing in rows in front of the Charye table and prostrating multiple times to show respect to their ancestors.

When Charye is finished, people would sit around the Charye table and eat the food served to their ancestors to share food with their loved ones who have passed away. Many Christian families skip the ritual part and have a meal with their families during traditional festival holidays.

However, the number of people visiting their hometowns or the eldest member of the family is decreasing every year due to the increased number of people who head out to nearby foreign countries for a short vacation or stay at home to rest. According to a survey of 4,000 people aged between 20 and 50 years, conducted by Lotte's marketing wing Lotte Members in September, 56.4 percent said that they would not prepare the Charye table.

© Aju Business Daily & www.ajunews.com Copyright: All materials on this site may not be reproduced, distributed, transmitted, displayed, published or broadcast without the authorization from the Aju News Corporation.