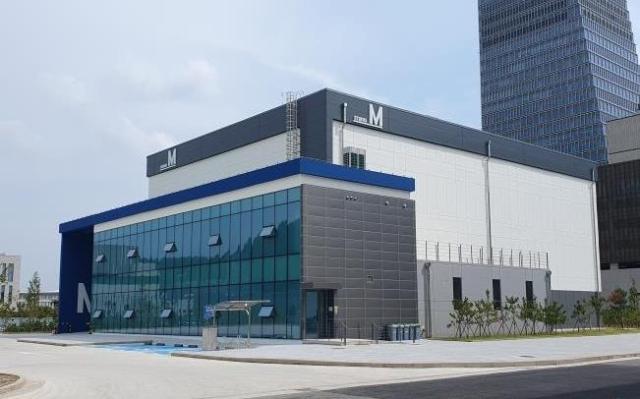 SEOUL -- A multi-purpose indoor filming facility for special scenes such as sea battles, artificial rainfall, and ship accidents was built in South Korea's largest state-run studio, Studio Cube. The special effects studio played a key role in filming the Netflix drama series Squid Game. A large water tank, which is 30.4-meter-(99.7-foot)-long and 20.9-meter-wide, was installed in the complex.

The construction of the special filming facility began in October 2021. South Korea's culture ministry earlier said the shooting site was designed to meet the growing production demand for Hallyu (Korean cultural wave) content.

Studio Cube, established in the central city of Daejeon in 2017, is a two-story building with a floor space of 32,040 square meters. The facility is equipped with a supersized studio and four general studios including one equipped with a four-sided chromakey to facilitate visual effects (VFX) shooting. VFX, which incorporates computer graphics (CG) elements, is often used by filmmakers to produce imagery that is difficult to film or doesn't exist in the real world.

The Korea Creative Content Agency (KOCCA), a government body charged with governing cultural content, said in a statement on September 21 that the construction of the indoor shooting site was completed. The government body has worked with the Ministry of Culture, Sports and Tourism to open the new filming site called "Studio M."

The two groups will continue to cooperate to build a virtual studio with LED wall stages that create realistic graphics, as well as in-camera VFX equipment. In-camera VFX is an innovative technique that enables users to film multiple scenes and locations after setting up LED walls in front of actors in a studio. "Support for video production infrastructure to realize unlimited imagination is a very important factor in the birth of global K-content," said KOCCA head Jo Hyun-rae.

© Aju Business Daily & www.ajunews.com Copyright: All materials on this site may not be reproduced, distributed, transmitted, displayed, published or broadcast without the authorization from the Aju News Corporation.