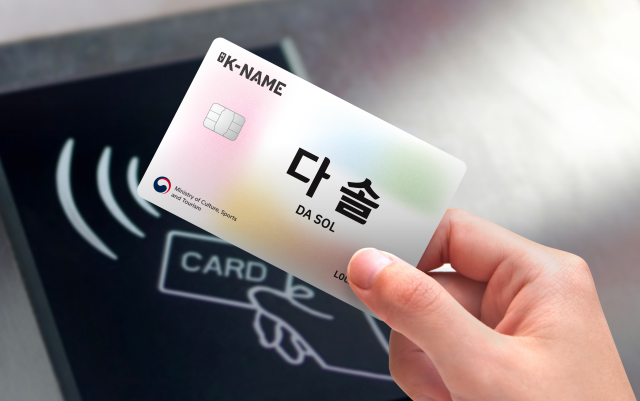 SEOUL -- South Korea has revealed its special plan to offer a special gift for foreigners who visit the country on September 23 and 24. Visitors who enter South Korea through the Incheon International Airport, the country's main gateway, will be given prepaid transport payment cards printed with the travelers' names in Hangul, Korean characters.

Hangul, the writing system of the Korean language, was invented by King Sejong of the Joseon Dynasty in 1443 and was distributed to the public in 1446. The Korean alphabet made up of 14 consonants and 10 vowels can create a combination of 24 letters. The creation of Hangul is celebrated in South Korea on October 3, the Hangul Day.

The culture ministry said that foreign visitors to South Korea will be given Korean names and a prepaid public transport payment card with their names printed on the front side. The payment card will be given to the first 500 people who participate in a survey using digital kiosks installed in the Incheon International Airport.

Thanks to the reopening of borders and lifting of regulations on mandatory face masks in public areas, the number of foreign tourists in South Korea soared 321.9 percent year-on-year in June 2023, exceeding 960,000. This is the highest number of visitors since the COVID-19 pandemic. South Korea recovered 65 percent of the number of tourists in June 2019, before the first wave of the pandemic hit the country.

According to government data, some 4.43 million people visited South Korea in the first half of 2023, which accounts for 52.5 percent in the same period in 2019. The tourism sector is one of the country's industries that was devastated by the pandemic. According to the Korea Tourism Organization, some 17.5 million foreign travelers visited South Korea in 2019 and the number nosedived 94.4 percent to 967,000 in 2020.

© Aju Business Daily & www.ajunews.com Copyright: All materials on this site may not be reproduced, distributed, transmitted, displayed, published or broadcast without the authorization from the Aju News Corporation.