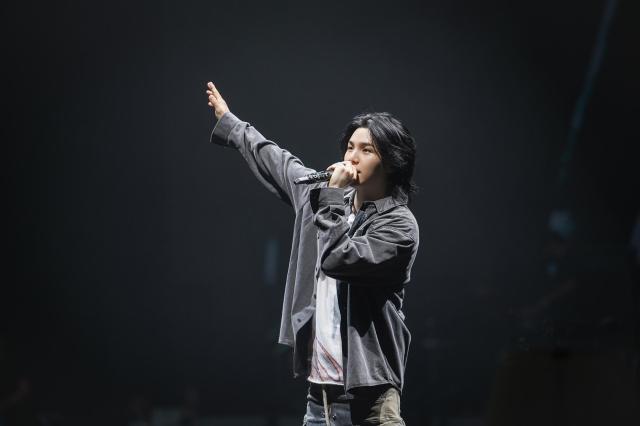 SEOUL -- Suga, a 30-year-old rapper, became the third BTS member to fulfill his compulsory military service, followed by Jin and J-Hope. While the two BTS members are serving as assistant Army drill instructors, Suga was dispatched to his post as a public service agent.

In South Korea, all able-bodied males who are 18 and older must do their military service for at least 18 months unless they have a valid reason for exemption. Unlike the majority of men who serve their mandatory service in the army, public service agents are assigned to public health centers, local offices, and other government offices to provide aid to public services.

In most cases, people who have minor disabilities or are not fit enough for active duty in the army are allocated as public service workers. Suga underwent surgery in 2020 because of his torn labrum. However, Big Hit has not disclosed the exact reason why Suga was selected as a public service agent.

Suga started his 21-month-duty as a public service agent on September 22, Big Hit said. During his service, the artist will also receive basic training at an army boot camp in Nonsan some 154 kilometers (96 miles) south of Seoul. He will renew the exclusive contract with Big Hit and return with other members as a whole group by 2025. "I will return after faithfully completing my service," Suga said on Weverse, an online fan community platform.

The artist, also known as Agust D, has presented rapping skills. The music video for his rap song "Haegeum" gained more than 57 million views about five months after its release on April 21. He also collaborated with IU, one of the most popular female artists in South Korea's entertainment scene, to roll out "Eight," a dance song with some 175 million views on YouTube.

The lead rapper is also known for his donation activities. In March 2023, he donated about 100 million won ($74,822) to child earthquake victims in Türkiye and Syria through a London-based nonprofit organization. In 2022, Suga donated 100 million won to a Seoul-based disaster relief association to help residents on South Korea's eastern coast recover from a wildfire recover from a wildfire.

© Aju Business Daily & www.ajunews.com Copyright: All materials on this site may not be reproduced, distributed, transmitted, displayed, published or broadcast without the authorization from the Aju News Corporation.