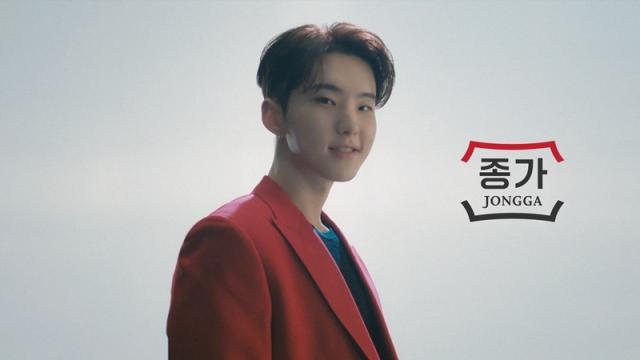 SEOUL -- Hoshi, a member of the multinational boy band Seventeen, was selected as the ambassador for Jongga, a Seoul-based brand specializing in kimchi, a traditional Korean fermented vegetable dish. The 27-year-old will promote the food company's various products and events.

Kimchi is a spicy and sour, picked vegetable side dish, usually made by fermenting cabbage or radish with red chili powder, garlic, ginger, and other spices. According to data released by the Ministry of Agriculture, Food and Rural Affairs, South Korea's kimchi export amount reached $81 million in the first half of 2023, up 4.8 percent compared to a year ago. Kimchi producer Jongga, the kimchi-making wing of food maker Daesang, is selling its products in more than 40 countries, including the United States, Japan, Taiwan, and Europe. In 2022, Jongga started the production of its kimchi at its California factory with an annual capacity of 2,000 tons.

Jongga announced through its Instagram account on September 25 that Hoshi was appointed as its ambassador. Starting on September 26, videos showing the artist promoting kimchi will be released. Hoshi earlier received attention for showing himself eating kimchi on a streaming platform. The South Korean kimchi brand will showcase an 11-day kimchi pop-up store at Seongsu, a vibrant fashion district in eastern Seoul.

In 2013, the process of making kimchi known as "Kimjang" was listed as UNESCO's intangible cultural heritage of humanity. On September 16, Jongga opened the first kimchi pop-up store in London. As of 2022, the export amount of Jongga's kimchi products to Europe accounted for approximately 56 percent of the total South Korean exports of 3,542 tons.

© Aju Business Daily & www.ajunews.com Copyright: All materials on this site may not be reproduced, distributed, transmitted, displayed, published or broadcast without the authorization from the Aju News Corporation.