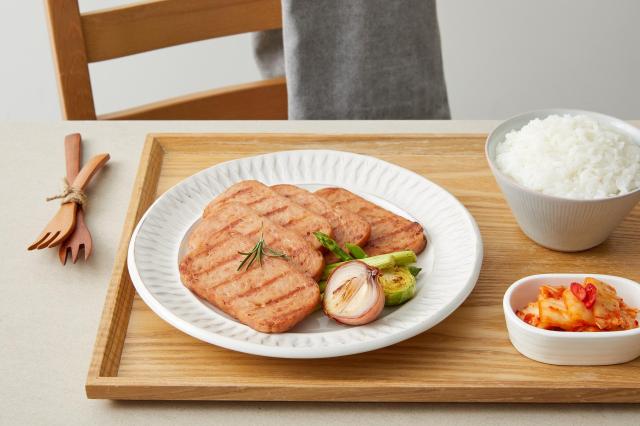 SEOUL -- Spam, a popular canned pork brand made by American food processing company Hormel Foods, is being widely consumed in South Korea. More than 1.9 billion 200-gram (0.4 pounds) Spam products were sold in the country as of 2022, data released by CJ Cheiljedang, a South Korean food company in charge of domestic Spam production, showed.

Canned pork was first introduced during the Korean War (1950~1953) when the United States' armed forces fought alongside South Korea to repel North Korea's invasion. Using the canned ham and other canned U.S. military rations that were smuggled out of bases, a popular Korean-style spicy stew Budae Jjigae was created. The stew made with ham, sausages, baked beans, and Kimchi, a traditional fermented vegetable dish, was chosen as the favorite dish among Chinese tourists in a survey conducted in 2016.

CJ Cheiljedang said on September 26 that the cumulative sales amount of Spam surpassed 1.9 billion as of last year. "The average number of Spam eaten by each South Korean would be 40," the company said in a statement. The subsidiary of South Korea's food and entertainment conglomerate CJ Group estimated that the cumulative sales of the brand would surpass 2.1 billion by the end of 2023.

CJ Cheiljedang started domestic production of the canned pork brand in 1987. In July 2020, "CJ Spam Mild," a Spam product with a lower amount of sodium, was released to target consumers who prefer low-sodium food items.

© Aju Business Daily & www.ajunews.com Copyright: All materials on this site may not be reproduced, distributed, transmitted, displayed, published or broadcast without the authorization from the Aju News Corporation.