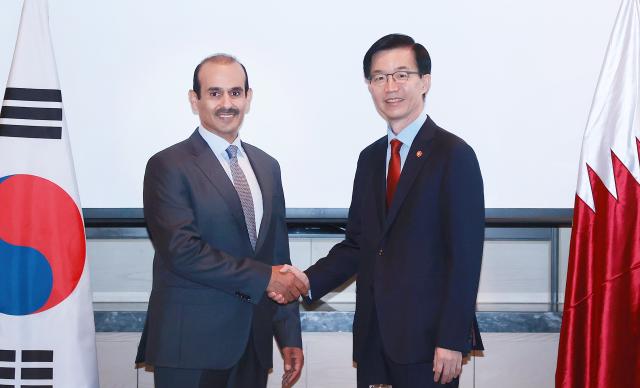 SEOUL -- South Korea and Qatar discussed ways to strengthen their liquefied natural gas distribution network through a meeting of the two countries' energy ministers. South Korea and Qatar's trade volume reached $17.1 billion in 2022 and maintained a strong trade partnership based on LNG and LNG tankers despite the growing uncertainties in the global energy market.

South Korea's Trade, Industry and Energy Minister Bang Moon-kyu met with Saad Sherida Al-Kaabi, Qatar's Minister of State for Energy Affairs in Seoul on September 27 and discussed ways the two countries could cooperate to strengthen the distribution network of LNG and shipbuilding infrastructure, the South Korean energy ministry said in a statement.

Qatar is one of South Korea's top clients of massive tanker vessels. In 2022, South Korean shipbuilders won orders for 54 LNG tankers. According to the energy ministry, the two energy ministers shared their ideas designed to maximize cooperation between South Korea and Qatar in sectors such as renewable energy, hydrogen, ammonia production and utilization, and the incubation and exchange of human resources.

"As we are expecting more LNG tanker orders later this year, we are strengthening our realistic cooperation in LNG-based sectors," the energy ministry said.

© Aju Business Daily & www.ajunews.com Copyright: All materials on this site may not be reproduced, distributed, transmitted, displayed, published or broadcast without the authorization from the Aju News Corporation.